Summary
Current Position: US Representative for IL District 16 since 2012
Affiliation: Republican
Former Position(s): US Air Force from 2003 – 2021
Featured Quote: 
It was a sobering moment to vote in support of impeachment today; to walk over to the U.S. Capitol, our symbol of democracy, and recall the violent insurrection we witnessed here just one week ago. This is not a vote I took lightly, but a vote I took confidently. I'm at peace.
Featured Video: 
Kinzinger BLASTS Kevin McCarthy for 'childish' comments on Jan. 6 committee
News
Last week, Illinois Congressman Adam Kinzinger came out with a video announcing he would not be seeking re-election. There's been speculation about him possibly running for governor or the US Senate here in Illinois — both of which would be uphill climbs just to win the primary. We talked about what the future might hold for Kinzinger with former leading conservative radio host and current editor-at-large of "The Bulwark."
GUEST: 
Charlie Sykes
Founder and Editor-at-large, The Bulwark | Host, The Bulwark Podcast | Contributor, MSNBC | Author • "How the Right Lost Its Mind" (2017)
WASHINGTON, DC – Following the announcement that the last U.S. troops had officially left Afghanistan, Congressman Adam Kinzinger (R-IL) sent a letter to Secretary of State, Antony Blinken and Secretary of Defense, Lloyd Austin to inquire about the evacuation process, the status of those left behind, and the plan moving forward.
"While I commend the administration for saving thousands of lives, I believe more could have been done to prevent the tragic loss of life on August 26, 2021 and to better prepare for the chaos that ensued this last week. And I'm looking to our Secretaries of State and Defense to get to those answers," said Congressman Kinzinger. "Our military community stepped up in a way many can hardly grasp right now, but I am incredibly proud of the men and women who have served this mission and all those that risked life and limb to defend this nation and save the lives of our allies. This effort is not over and nor should it be. We can never give up until our fellow Americans and our allies are safe."
The full text of the letter is available below and a signed copy can be found attached and on the Congressman's website here.
Twitter
About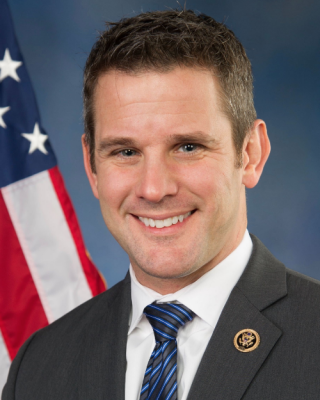 Source: Government page
Adam D. Kinzinger is currently serving his sixth term in the United States House of Representatives and proudly represents Illinois' Sixteenth Congressional District, which stretches across 14 counties in Northern Illinois.

Congressman Kinzinger serves as a member of the House Committee on Energy and Commerce and the House Foreign Affairs Committee. His top priorities include strengthening U.S. energy policy and making our nation less reliant on foreign resources as well as bolstering the strength of our national security – both at home and abroad.

The Sixteenth District is home to four nuclear power plants (the most of any district in America), miles of windmills, hydropower plants, and ethanol and biodiesel plants. The nuclear energy production alone employs more than 2,500 people throughout the 16th District.  Coal and natural gas are also vital to the region. With such rich energy resources, Congressman Kinzinger is focused on advancing energy production throughout the 16th District and across the United States.

Prior to being elected to Congress, Kinzinger served in the Air Force in both Operation Iraqi Freedom and Operation Enduring Freedom.  He has always been a strong supporter of U.S. leadership in the Middle East, and he was among the first members of Congress to call for airstrikes against ISIS. He continues to focus on eradicating this threat with a comprehensive and detailed strategy.

In 2007, he received the United States Air Force Airman's Medal for saving the life of a young woman who was being violently attacked. He wrestled the knife away from the attacker and pinned him to the ground until the police arrived. He was also awarded the National Guard's Valley Forge Cross for Heroism and was selected as the Southeastern Wisconsin American Red Cross Hero of the Year.

At the age of 42, Congressman Kinzinger is one of the youngest Members of Congress, yet he ranks in the top half of seniority in the full House of Representatives. He was named 'A Republican Role Model for 2017' by the Washington Post and is frequently applauded for his pragmatic approach to the myriad of issues facing America, and the world. 

Education and Early Career

As a 20-year old sophomore at Illinois State University (ISU), Adam Kinzinger challenged a three-term incumbent for the McLean County Board. He advocated for restoring local government back into the hands of the people and won a seat on the board, becoming one of the youngest county board members in McLean County history. He served on the McLean County Board from 1998-2003, and graduated from ISU in 2000.

Military Experience

After serving on the McLean County Board, Kinzinger joined the United States Air Force. He was commissioned a 2nd Lieutenant in November 2003 and later awarded his pilot wings. He has served in the Air Force Special Operations, Air Combat Command, Air Mobility Command, and Air National Guard.

Kinzinger continues to serve his country as a pilot in the Air National Guard, with the current rank of Lieutenant Colonel, and balances this service with his duties in Congress.

Family

Congressman Kinzinger's roots run deep across Illinois. He was born in Kankakee, grew up in Bloomington, and now resides in Channahon. His mother Jodi is a retired elementary schoolteacher, and his father Rus is a former CEO of two faith-based organizations. His parents instilled in him and his two siblings the importance of hard work, compassion, and teamwork through their own service to their communities. Kinzinger carries these Midwestern values and his servant leadership with him to Washington, D.C. as he fights to preserve and promote the American dream for hardworking Illinoisans.

Major Accomplishments

During his time in Congress, Kinzinger has worked tirelessly for IL-16, and for the security of our nation. From getting veterans back to work, to combatting the opioid epidemic, Congressman Kinzinger continues to fight for his constituents and stand up for America. Some of the most notable efforts by Congressman Kinzinger include:

–          Public Law 113-235: The American Manufacturing Competitiveness Act, introduced by Reps. Kinzinger and Daniel Lipinski (D-IL), requires the President to create a national manufacturing strategy that will provide long-term guidance and certainty for United States manufactures and improve their coordination with the government.  This bill was signed into law in December 2014 (as part of the 2015 spending package).

–          Public Law 114-198: The Comprehensive Addiction and Recovery Act, signed into law in July 2016, was a landmark piece of legislation because it was the most comprehensive and first major federal addiction legislation in 40 years. Congressman Kinzinger served as a conferee on the final language, which established a coordinated and balanced strategy though grants that would expand prevention and education efforts about addiction, while also promoting more innovative research, treatment, and recovery methods.

o   The Veteran EMT Act, introduced by Congressman Kinzinger, was included in the final CARA legislation (Section 105). The measure provides grants to states so they can review their EMT certification process to consider the experience of veterans to issue certifications in a timelier fashion.

–          Public Law 115-141: The Improving Broadband Access for Veterans Act, introduced by Reps. Kinzinger and Jerry McNerney (D-CA), was signed into law in March 2018 as part of the Ray Baum's Act (included in the 2018 Omnibus). This measure requires the Federal Communication Commission (FCC) to submit a report to Congress that will promote broadband access for veterans, especially low-income veterans and those residing in rural areas.

–          Public Law 115-254: The SEAT Act, introduced by Reps. Kinzinger and Steve Cohen (D-TN), was signed into law on October 5, 2018 as part of the FAA Reauthorization Act of 2018. This legislation directs the Federal Aviation Administration to establish minimum standards for the size of seats on airplanes to ensure the health and safety of passengers.

–          Public Law 115-271: The SUPPORT for Patients and Communities Act, signed into law in October 2018, received strong bipartisan support in Congress because it included several provisions to combat the opioid epidemic, advance treatment and recovery initiatives, prevent addiction, and help protect communities affected by this drug crisis.

o   Included in this package was Congressman Kinzinger's bill, H.R. 5590, the Opioid Addiction Action Plan, which requires the Centers for Medicare and Medicaid (CMS) to present to Congress a proposal to better address the opioid crisis by being more adaptable to innovative treatments, and steer us away from the typical one-size-fits-all methods for treating pain and substance abuse disorder.

–          Public Law 115-398: The SOAR to Health and Wellness Act, introduced by Reps. Kinzinger and Steve Cohen (D-TN), was signed into law on December 31, 2018. The bill requires the implementation of standard procedures and programs to educate and train health care professionals to better identify and properly treat victims of human trafficking.

–          Public Law 115:439: The NUKE Act, introduced by Reps. Kinzinger and Mike Doyle (D-PA), will modify the licensing process for nuclear plants by creating a framework for the Nuclear Regulatory Commission (NRC) fees, increasing transparency and providing long-term certainty for these plants.

o   The bill signed into law, S.512, is a companion bill to the NUKE Act, titled the Nuclear Energy Innovation and Modernization Act.
Voting Record
Caucuses 
Congressional Cement Caucus
House Baltic Caucus
Congressional NextGen 9-1-1 Caucus
United States Congressional International Conservation Caucus
Climate Solutions Caucus
Republican Governance Group
Republican Main Street Partnership
Offices
Washington DC Office
2245 Rayburn HOB
Washington, DC 20515
Phone: (202) 225-3635
Fax: (202) 225-3521
Hours: 9:00 AM – 6:00 PM EST
Ottawa District Office
628 Columbus Street, Ste. 507
Ottawa, IL 61350
Phone: (815) 431-9271
Fax: (815) 431-9383
Hours: 8:30 AM – 5:00 PM CST
Watseka District Office
342 West Walnut
Watseka, IL 60970
Phone: (815) 432-0580
Hours: 8:30 AM – 5:00 PM CST
Meetings by appointment
Rockford District Office
725 N. Lyford Road
Suite 3
Rockford, IL 61107
Phone: (815) 708-8032
Hours: Meetings by appointment only.
Contact
Email:
Web
Government Page, Campaign Site, Twitter, YouTube, Facebook, Wikipedia
Politics
Source: none
Campaign Finance
Open Secrets – We Follow the Money
Voting Record
VoteSmart – Key Votes & Ratings
Search
Wikipedia Entry
Adam Daniel Kinzinger[1] (/ˈkɪnzɪŋər/; born February 27, 1978) is an American politician serving as the U.S. Representative for Illinois's 16th congressional district. The district covers eastern Rockford, most of Rockford's suburbs, and a swath of exurban territory around Chicago. He is a member of the Republican Party. He is also a lieutenant colonel in the Air National Guard.
Kinzinger was first elected to Congress in 2010 from the 11th district. His district was largely merged with the 16th after the 2010 census, and Kinzinger transferred to the 16th after defeating its incumbent, Don Manzullo, in the Republican primary.
After Republican President Donald Trump was defeated in the 2020 presidential election, Kinzinger became known for his vocal opposition to Trump's claims of voter fraud and attempts to overturn the results. Kinzinger was one of 10 Republicans who voted to impeach Trump for incitement of insurrection in his second impeachment, and was one of only two Republicans to vote to create a select committee to investigate the 2021 attack on the U.S. Capitol, which he was subsequently appointed to.
On October 29, 2021, Kinzinger announced that he will not seek reelection to Congress in 2022.[2][3]
Early life, education, and early political career
Adam Kinzinger was born on February 27, 1978, in Kankakee, Illinois, the son of Betty Jo, an elementary school teacher, and Rus Kinzinger, a CEO of faith-based organizations.[4][5][6] After spending part of his youth in Jacksonville, Florida, he was primarily raised in Bloomington, Illinois. He graduated from Normal Community West High School in 1996[7] and earned a bachelor's degree in political science from Illinois State University in 2000.[8]
In 1998, while a student at Illinois State, Kinzinger ran for election as a county board member in McLean County. He won, at age 20, and was one of the youngest serving county board members in McLean County history,[9][10] defeating an incumbent county board member. Kinzinger remained on the board until his resignation in 2003.[11]
Kinzinger worked as an intern for former U.S. Senator Peter Fitzgerald shortly after his graduation from Illinois State, as part of a program offered there.[12]
Military service
Kinzinger resigned from the McLean County Board in 2003 to join the United States Air Force. He was commissioned a 2nd Lieutenant in November 2003 and later awarded his pilot wings. Kinzinger was initially a KC-135 Stratotanker pilot and flew missions in South America, Guam, Iraq and Afghanistan. He later switched to flying the RC-26 surveillance aircraft and was stationed in Iraq twice.[13]
Kinzinger has served in the Air Force Special Operations Command, Air Combat Command, Air Mobility Command, and Wisconsin Air National Guard and was progressively promoted to his current rank of Lieutenant Colonel.[14] As part of his continued service with the Air National Guard, Kinzinger was deployed to the Mexico–United States border in February 2019 as part of efforts to maintain border security.[15]
U.S. House of Representatives
Elections
2010
Kinzinger met Republican U.S. Congressmen Mike Pence, Mark Kirk, and Peter Roskam in January 2009 to discuss a possible run for Congress.[16] Kinzinger decided to run in Illinois' 11th congressional district, held by Democratic U.S. Congresswoman Debbie Halvorson. He started campaigning full-time in May 2009, when he returned home from his 3rd tour in Iraq. He was endorsed by former Alaska Governor Sarah Palin. Kinzinger won the five-candidate Republican primary on February 2, 2010, with 64% of the vote.[17]
He was endorsed by the Chicago Tribune and the Chicago Sun-Times in the general election. Kinzinger defeated Halvorson 57%–43% on November 2, 2010.[18]
2012
During his first term, Kinzinger represented a district that stretched from the outer southern suburbs of Chicago to Bloomington/Normal.
After redistricting, Kinzinger's district was eliminated. Much of its eastern portion, including Kinzinger's home in Channahon, near Joliet, was merged with the Rockford-based 16th District, represented by fellow Republican Don Manzullo, a 67-year-old politician first elected in 1992. Prior to redistricting, Kinzinger had represented 31% of the newly apportioned district, while Manzullo had represented at least 44% of the district. In the March Republican primary, Kinzinger defeated Manzullo, 56%–44%.[19] In the general election, Kinzinger defeated Democrat Wanda Rohl, 62%–38%.[20]
Eric Cantor helped Kinzinger, who was a rising Republican star, topple Manzullo in the Illinois primary.[21]
2014
Kinzinger was targeted by the Club for Growth in 2014.[22] In the Republican primary, he faced David Hale, a nurse and founder of the Rockford Tea Party. Kinzinger won with 78% of the vote.[23][24]
In the general election, Kinzinger faced Democratic nominee Randall Olsen; he won with 71% of the vote.[25][26]
2016
Kinzinger won the March 2016 Republican primary with 100% of the vote.[27] No candidates filed for the Democratic primary for his seat.
Kinzinger announced publicly that he would not support GOP presidential nominee Donald Trump on August 3, 2016. "I'm an American before I'm a Republican," he told CNN's Wolf Blitzer, adding that "I'm a Republican because I believe that Republicanism is the best way to defend the United States of America… [Trump] throws all of these Republican principles on their head." Kinzinger noted, however, that he also would not support Democratic Party presidential nominee Hillary Clinton, and was mulling other options.[28]
Kinzinger introduced the U.S. House version of the bipartisan bill Countering Foreign Propaganda and Disinformation Act.[29] The United States Senate version was written in March 2016 by U.S. Senators Chris Murphy and Rob Portman.[30] After the 2016 U.S. presidential election, worries grew that Russian propaganda spread and organized by the Russian government swayed the outcome of the election, and representatives in the U.S. Congress took action to safeguard the National security of the United States by advancing legislation to monitor incoming propaganda from external threats.[30][31] On November 30, 2016, legislators approved a measure within the National Defense Authorization Act to ask the U.S. State Department to take action against foreign propaganda through an interagency panel.[30][31] The legislation authorized funding of $160 million over a two-year-period.[30] The initiative was developed through the Countering Foreign Propaganda and Disinformation Act.[30]
2018
Kinzinger defeated Democratic challenger Sara Dady with 59.1 percent of the vote. After the 2018 midterm elections, which saw all of the Republican congressmen representing the Chicago area defeated, he was left as the only Republican representing a significant part of northern Illinois in Congress.
2020
Kinzinger defeated Democrat Dani Brzozowski in the 2020 election with 65% of the vote.
Tenure
In 2010 Kinzinger signed a pledge sponsored by Americans for Prosperity promising to vote against any global warming legislation that would raise taxes.[32]
Kinzinger sponsored the Veteran Emergency Medical Technician Support Act of 2013. The legislation, which would make it easier for veterans with emergency medical technician training in the military to get civilian licenses to perform the same job outside of the military, passed the House of Representatives by a voice vote but was not voted upon by the Senate.[33]
On June 5, 2014, Kinzinger introduced a bill (H.R. 4801; 113th Congress) which would require the United States Secretary of Energy to prepare a report on the effects that thermal insulation has on both energy consumption and systems for providing potable water in federal buildings.[34][35] Kinzinger argued that "with the federal government being the single largest consumer of energy in the country, doing our best to maximize the potential savings from improved insulation systems is a commonsense step I think everybody can agree on."[35]
Kinzinger is a member of both the Republican Study Committee and the Republican Main Street Partnership.[36]
Conservative Review gave Kinzinger's voting record a "Liberty Score" 35%,[37] while the American Conservative Union (ACU) gave Kinzinger a Lifetime Rating of 59.60 out of 100.[38] Kinzinger was ranked as the 40th most bipartisan member of the U.S. House of Representatives during the 114th United States Congress (and the third most bipartisan member of the U.S. House of Representatives from Illinois) in the Bipartisan Index created by The Lugar Center and the McCourt School of Public Policy that ranks members of the United States Congress by their degree of bipartisanship (by measuring the frequency each member's bills attract co-sponsors from the opposite party and each member's co-sponsorship of bills by members of the opposite party).[39]
Kinzinger voted in favor of the 2017 Republican health care legislation, which would have repealed major parts of the Affordable Care Act (Obamacare).[40]
Kinzinger voted in favor of the Tax Cuts and Jobs Act of 2017.[41][42]
During the COVID-19 pandemic, Kinzinger faced criticism from some Asian American leaders[43] for blaming China for the pandemic at a time that anti-AAPI (Asian American Pacific Islander) hate crimes and coronavirus-related discrimination are rising.[44][45][46][47] Kinzinger authored and retweeted many tweets singling out China for blame.[48][49][50][51][52][53] One such tweet was "Daily reminder: You are in your homes because #Chinahidthevirus."[54]
On February 4, 2021, Kinzinger joined 10 other Republican House members voting with all voting Democrats to strip Marjorie Taylor Greene of her House Education and Labor Committee, and House Budget Committee assignments in response to controversial political statements she had made.[55]
In March 2021, the Representative was one of 8 Republicans to join the House majority in passing the Bipartisan Background Checks Act of 2021.[56]
On April 9, 2021 Kinzinger called for Matt Gaetz to resign while he was being investigated on sex trafficking charges.[57][58]
On May 19, 2021, Kinzinger and 34 other Republican House members in the 117th Congress voted to create a National Commission to Investigate the January 6th Attack on the United States Capitol Complex, intended to probe the storming of the Capitol. They joined with all 217 Democrats present to vote to establish such a body.[59][60] After the Senate failed to support the national bipartisan commission due to a Republican filibuster, Kinzinger remained committed to the concept.
On July 1, 2021, Kinzinger voiced disdain about sanctions threatened by Republican leadership against Republican lawmakers who would participate in a house committee to investigate the storming of the Capitol.[61][62] On July 25 the same year, Kinzinger accepted Speaker Pelosi's appointment of him to the House Committee on the Jan. 6 Attack.[63][64][65]
During an interview on September 5, 2021 on the CNN State of the Union program, Kinzinger said his party "desperately needs to tell the truth", that if the party pushes lies and conspiracy theories, it does not deserve to win Congressional majorities in the 2022 elections, that if they were "going to be in charge and pushing conspiracy, pushing division, and pushing lies, then the Republican Party should not have the majority", and that it "is a pretty scary place to go in this world if we start using our power as a way to get the outcome that we want" in elections.[66]
On November 5, 2021, Kinzinger was among the 13 House Republicans who broke with their party and voted with a majority of Democrats in favor of the Infrastructure Investment and Jobs Act, a $1.2 trillion infrastructure spending bill.[67]
Committee assignments
Caucus memberships
Congressional Cement Caucus
Political positions
Domestic issues
Gun law
Kinzinger is in favor of allowing concealed carry of firearms across state lines where concealed carry is legal.[75]
On March 11, 2021, Kinzinger was one of eight Republican House Representatives who voted to pass the Bipartisan Background Checks Act of 2021.
Health care
In 2017 he voted to repeal the Affordable Care Act (Obamacare).[75]
Economic issues
Kinzinger opposes the Dodd–Frank Act.[75]
Kinzinger has a 94% lifetime rating from the U.S. Chamber of Commerce, a business-oriented, right-wing advocacy group but only a 49% lifetime rating from the Club for Growth, another conservative group which advocates for tax cuts, lower spending, deregulation, and free trade.[76][77]
International issues
Iran
On Twitter, Kinzinger praised Donald Trump's decision to kill Iranian Major General Qasem Soleimani, Commander of the Quds Force, the third most powerful person in Iran.[78] Reacting to news of the assassination, Kinzinger tweeted, "Mess with the bull, get the horns. If true, nice call, @realdonaldtrump."[79] He continued tweeting, saying "killed a man responsible for thousands of deaths in #Syria and elsewhere, including Americans. Let's see how long the #blameAmerica left takes to make him a poor victim."[80]
Immigration
Kinzinger supports penalizing sanctuary cities.[75]
Social issues
Abortion
Kinzinger opposes late term abortion and the use of federal funds for abortion or health coverage that funds abortion.[75]
Cannabis
Kinzinger has a "C-" rating from NORML for his voting history regarding cannabis-related causes. Kinzinger supported veterans having access to medical marijuana if recommended by their Veterans Health Administration doctor if medical marijuana is legal in their states of residence. He opposed a bill to remove marijuana from the list of scheduled substances under the Controlled Substances Act.[81][82]
LGBTQ rights
Kinzinger voted against the Equality Act.[83][84]
Kinzinger has an 11% rating from the Human Rights Campaign, the largest LGBTQ rights advocacy group in the United States.[85]
On February 24, 2021, Republican Rep. Marjorie Taylor Greene, hung a sign outside of her office reading "There are TWO genders: MALE & FEMALE 'Trust The Science!'" in response to Democratic Rep. Marie Newman, whose office is located directly across from hers and who put a transgender flag outside of her own office in support of the Equality Act. Kinzinger quote tweeted Greene and said, "This is sad and I'm sorry this happened. Rep. Newmans [sic] daughter is transgender, and this video and tweet represents the hate and fame driven politics of self-promotion at all evil costs. This garbage must end, in order to #RestoreOurGOP"[86]
Criticism of Donald Trump
Kinzinger voted in line with President Donald Trump about 90% of the time[10] and voted against Trump's first impeachment,[10][87] but he subsequently became a critic of Trump and made headlines as a rare Republican office holder willing to criticize him.[88][89] In summer 2020, Kinzinger denounced QAnon and other baseless conspiracy theories that gained currency among Republican voters.[10] After the 2020 presidential election, in which Trump was defeated by Joe Biden, Kinzinger denounced Trump's claims that the election was "stolen" and criticized Trump's attempt to overturn the results of the 2020 presidential election.[10] In December 2020, after Trump repeated his claims of fraud on Twitter, Kinzinger tweeted that it was time for Trump to delete his Twitter account.[10][90] He also criticized the Texas Republican Party, and called for the firing of its chairman Allen West, when the party floated the idea of secession, after the Supreme Court rejected Texas v. Pennsylvania, a bid by the state of Texas to overturn the presidential election outcome.[91]
On January 7, 2021, the day after the storming of the U.S. Capitol by a violent pro-Trump mob, Kinzinger became the first Republican member of the House to call for Trump's removal from office via the 25th Amendment.[92][93] In a video message, Kinzinger said that Trump had "abdicated his duty to protect the American people and the people's house," and his behavior made it clear that he had become "unmoored" from both his duties as president and "reality itself." He urged Vice President Mike Pence and the Cabinet to invoke the 25th Amendment, saying that Trump was "unfit" and "unwell."[94] Five days later, Kinzinger announced that he would vote in favor of Trump's second impeachment. He stated that there was "no doubt" that Trump "broke his oath of office and incited this insurrection." He also accused Trump of using the power of his office to launch a direct attack on Congress. He asked, "If these actions–the Article II branch inciting a deadly insurrection against the Article I branch–are not worthy of impeachment, then what is an impeachable offense?"[95] On January 13, he joined nine other Republicans in voting for impeachment.[10][96][97] In response, some Republicans have vowed to support a primary challenge to Kinzinger.[10] Kinzinger received a letter from eleven members of his family asserting he had joined "the devil's army" for publicly turning against Trump. Kinzinger said the family members suffer from "brainwashing" from conservative churches that led them astray.[98]
On May 19, 2021, Kinzinger became one of 35 Republicans who joined all Democrats in voting to approve legislation to establish the formation of a January 6 commission meant to investigate the storming of the U.S. Capitol.[99] He was also one of 2 Republicans who joined all Democrats in voting for a January 6 select committee.[100]
On November 14, 2021, Kinzinger, in an interview with Rolling Stone, that he regretted voting against Trump's first impeachment, stating that "If I went back in time, I would vote for the first impeachment."[101] In his interview, he also called Tucker Carlson a "manipulative son of a bitch".
Country First Movement
In early 2021, a few weeks after the 2021 Capitol riot, Kinzinger launched the Country First PAC, as a means to reform the Republican Party and distance itself from far-right conspiracies, including QAnon.[102] In the first quarter of 2021 Kinzinger's PAC raised over $1.1 million to fight Trump's growing influence over the Republican Party.[103]
Steve Bannon
On October 21, 2021, Kinzinger was one of nine House Republicans who voted to hold Steve Bannon in contempt of Congress.[104]
Electoral history
2012
2012 Illinois's 16th congressional district general election[105]

Party
Candidate
Votes
%
Republican
Adam Kinzinger
181,789
61.81
Democratic
Wanda Rohl
112,301
38.19
Total votes
294,090
100.0
2014
2014 Illinois's 16th congressional district Republican Party primary[106]

Party
Candidate
Votes
%
Republican
Adam Kinzinger (incumbent)
56,593
78.44
Republican
David J. Hale Jr.
15,558
21.56
Total votes
72,151
100.0
2014 Illinois's 16th congressional district general election[107]

Party
Candidate
Votes
%
Republican
Adam Kinzinger (incumbent)
153,388
70.6
Democratic
Randall Olsen
63,810
29.4
Total votes
217,198
100.0
Republican hold
2016
2016 Illinois's 16th congressional district Republican Party primary[108]

Party
Candidate
Votes
%
Republican
Adam Kinzinger (incumbent)
101,421
100.0
Republican
Colin M. McGroarty
2
0.00
Total votes
101,423
100.0
2016 Illinois's 16th congressional district general election[109]

Party
Candidate
Votes
%
Republican
Adam Kinzinger (incumbent)
259,722
99.9
Independent
John Burchardt (write-in)
131
0.1
Total votes
259,853
100.0
Republican hold
2018
2018 Illinois's 16th congressional district general election[110]

Party
Candidate
Votes
%
Republican
Adam Kinzinger (incumbent)
151,254
59.1
Democratic
Sara Dady
104,569
40.9
Independent
John M. Stassi (write-in)
2
0.0
Total votes
255,825
100.0
Republican hold
2020
2020 Illinois's 16th congressional district general election[111][112]

Party
Candidate
Votes
%
±%
Republican
Adam Kinzinger (incumbent)
218,839
64.71
+5.59%
Democratic
Dani Brzozowski
119,313
35.28
-5.60%
Write-in
7
0.00
N/A
Total votes
338,159
100.0
Republican hold
Personal life
The Wisconsin Red Cross named Kinzinger its 2006 "Hero of the Year" for wrestling a knife-wielding man to the ground and disarming him. The man had cut the throat of a woman on a street in downtown Milwaukee, Wisconsin.[113] Recalling the event in an interview, Kinzinger said "The whole time it was, to me, kind of a done deal that I was going to get stabbed in the process, but I knew that this wasn't something I could wake up to … every day with that memory that I watched her die."[114] The woman survived. For this act Kinzinger also received the United States Air Force Airman's Medal and the National Guard's Valley Forge Cross for Heroism.[115]
Kinzinger was ranked 5th on The Hill's 2011 annual "50 Most Beautiful People" list, which ranks anyone who regularly works on Capitol Hill.[116]
Kinzinger was engaged to Air Force Captain Riki Meyers, a fellow pilot, in 2011; they broke their engagement in 2012.[117][118] Kinzinger became engaged to Sofia Boza-Holman, a former aide to John Boehner and aide to Vice President Mike Pence, in June 2019.[119] They were married on February 16, 2020.[120]
References
External links
Issues
Source: Government page
Committees
Legislation
Issues