Summary
Current Position: US Senator since 2017
Affiliation: Democrat
Candidate: 2022 US Senator
Former Position: Assistant Secretary of Veterans Affairs from 2009 – 2011
Other Positions:
Chair, U.S. Senate Armed Services Committee Subcommittee – Airland Subcommittee
Chair, U.S. Senate Committee on Environment & Public Works – Subcommittee on Fisheries, Water and Wildlife
News
Evacuating the Capitol on January 6 was no easy task, but for Sen. Tammy Duckworth, who uses a wheelchair to get around, it would have been almost impossible.
Duckworth, an Illinois Democrat, was heading through the tunnels to the Senate to give a speech when a Capitol police officer told her the violent mob had breached one of the doors. As a veteran who lost her legs in a crash when her helicopter came under fire in Iraq in 2004, she had a split-second decision to make.
"Do I go and still be with the other senators?  Or try to secure myself and hope that I can stay someplace secure until they can come get me?" she recalled to Insider as part of an oral history of January 6  with interviews from 34 lawmakers, staffers, journalists, and police.
Duckworth has served in Congress since 2013, first in the House before ascending to the Senate in 2017.  Meaning she'd had eight years of experience with the US Capitol's shortcomings when it came to allowing people with disabilities to navigate the complex.
Twitter
About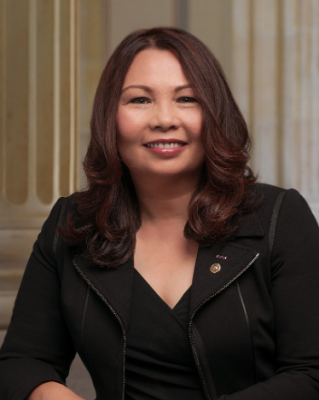 Soldier. Senator. Mother.
Her father was a Marine and Vietnam Veteran whose family had served in uniform during every period of conflict in our nation's history, dating back to before the Revolution. Later, her father worked with United Nations development programs throughout Southeast Asia, where he met Tammy's mother, who would later become a U.S. citizen.
When Tammy's father lost his job in his 50s and the family burned through their life savings, they survived with the help of food stamps and the generosity of others, but there were still months when the food stamps ran out early and the family didn't have enough to eat. When she was 16, Tammy became the only family member with a job. By selling roses on the side of the road for 25 cents apiece and taking on other odd jobs, she helped pull her family out of poverty—and developed a deep-seated appreciation both for the social safety net that helped keep her family afloat and for just how hard so many Americans have to work to survive, pay their rent and put food on the table.
Duckworth finished high school and worked her way through college at the University of Hawai'i waitressing and with other minimum wage jobs before enrolling in a Masters in International Affairs program at the George Washington University. There, Tammy enlisted in the Reserve Officers' Training Corps, where she quickly fell in love with the pure meritocracy of the Army—and met her now-husband, Bryan Bowlsbey. After earning her master's degree, Duckworth began a Ph.D. program at Northern Illinois University and continued serving in the Reserve Forces, interrupting her studies to become one of the first handful of women in the Army to fly combat missions during Operation Iraqi Freedom.
On November 12, 2004, Tammy's UH‐60 Black Hawk helicopter was hit by a rocket propelled grenade that exploded in her lap. She lost both legs and partial use of her right arm in the explosion. As a result of her injuries, Tammy earned a Purple Heart.
After waking up wounded–but not defeated–more than a week later at Walter Reed Army Medical Center and fighting for her own life, she's spent every day since fighting for those who sacrificed to save her—as well as for all military families. During her 13 months of painful recovery and rehabilitation, Duckworth quickly became a vocal advocate for her fellow Wounded Warriors.
After leaving Walter Reed, Tammy was named Director of the Illinois Department of Veterans' Affairs, where she implemented many first-in-the-nation programs to alleviate suffering from post-traumatic stress, improve traumatic brain injury screening and reduce homelessness among Veterans. President Barack Obama later nominated Tammy to be U.S. Assistant Secretary of Veterans Affairs. There, she headed the federal VA's effort to end Veteran homelessness, launched the VA's first online communications efforts and was a leader in initiatives for female Veterans.
But Tammy also realized that many of the systemic and bureaucratic problems our nation's Veterans and military families faced could only be fixed by changing federal laws. So she ran for the U.S. House of Representatives, served two terms—and retired from the Reserve Forces at the rank of Lieutenant Colonel after 23 years of service—before winning the Senate seat she now holds. In her first term in the Senate, Tammy was named the most effective freshman Democrat by the Center for Effective Lawmaking and one of the most effective of all Senate Democrats in the 116th Congress. Several of her proposals were signed into law by the President, including her first-ever Senate bill to help support jobs in Illinois and cut bureaucratic red tape on infrastructure projects, which became law in record time.
Senator Duckworth is focused on helping working families get ahead through job development programs, protecting Social Security and Medicare, promoting civil rights and equal rights for all Illinoisans, advocating for environmental justice and supporting our Veterans and military families. She serves on the Armed Services Committee; the Environment & Public Works Committee; the Commerce, Science, & Transportation Committee; and the Small Business & Entrepreneurship Committee.
In 2018, after Tammy became the first U.S. Senator to give birth while serving in office, she worked to change Senate rules to allow Senators to bring their infant children onto the Senate floor as they do their job voting on issues of national importance—sending a message that all workplaces should be family friendly. She has since passed several pieces of legislation making traveling easier for new moms and people with disabilities.
Tammy lives with her husband Bryan, their two daughters Abigail and Maile and her mother Lamai.
Contact
Email:
Web
Government Page, Campaign Site, Twitter, Wikipedia
Politics
Source: none
Committees
Senate Democrats' Special Committee on the Climate Crisis
Environmental Justice Caucus, Founding Co-Chair
U.S. Senate Armed Services Committee
Senator Duckworth is assigned to the following Armed Services Subcommittees:
Airland, Chair
Readiness and Management Support
Strategic Forces
U.S. Senate Committee on Environment & Public Works
Senator Duckworth is assigned to the following Environment & Public Works Subcommittees:
Fisheries, Water and Wildlife, Chair
Clean Air and Nuclear Safety
U.S. Committee on Commerce, Science & Transportation
Senator Duckworth is assigned to the following Commerce Subcommittees:
Communications, Media, and Broadband
Surface Transportation, Maritime, Freight, and Ports
Tourism, Trade, and Export Promotion
Aviation Safety, Operations, and Innovation
U.S. Committee on Small Business & Entrepreneurship
Legislation
Finances
DUCKWORTH, LADDA (TAMMY) has run in 3 races for public office, winning 3 of them. The candidate has raised a total of $25,054,258.
Source: Follow the Money
Voting Record
See: Vote Smart
Issues
Democracy & Governance
GOVERNMENT OVERSIGHT AND ACCOUNTABILITY
Senator Duckworth is focused on improving oversight and accountability across the government. Since entering Congress, Senator Duckworth has prioritized rooting out waste, fraud and abuse in government programs. For example, when the U.S. Government Accountability Office (GAO) found the U.S. Department of Defense wasted billions of taxpayer dollars on purchasing duplicative camouflage uniforms, Senator Duckworth helped amend the law to crack down on this unnecessary government spending. As a result of this good government reform, the GAO reported that taxpayers saved $4.2 billion over 5 years when the Army avoided procuring a new family of camouflage uniforms. She is committed to developing bipartisan solutions that make our government more transparent and accountable to the people it serves.
Economy & Jobs
ECONOMY, JOBS AND SMALL BUSINESS
Senator Duckworth is committed to helping foster Illinois's economic growth as well as building and supporting strong communities in urban, suburban and rural areas throughout our state.
Though many of the largest and most successful corporations in the world call Illinois home, Senator Duckworth knows that small businesses are the backbone of our state's economy, making up over 90 percent of employers, employing nearly half of Illinois's private workforce and serving as the life-blood of our communities. That is why she works every day as a member of the Senate Committee on Small Business and Entrepreneurship to find innovative, common-sense ways for Illinois' small enterprises to sustain, succeed and grow. She has also heard from countless employers and small businesses in Illinois that are struggling to find qualified workers to fill job openings, and she prioritizes workforce development by supporting career and technical education and private-public partnerships to train workers for 21st-century jobs.
As the United States competes in an increasingly global marketplace, Senator Duckworth's position on the Commerce, Science and Transportation Committee affords her a platform to ask tough questions and carefully review international trade agreements to help make sure they are in the best interests of our nation's economy and workers. While working in the Senate to open foreign markets for Illinois farmers and manufactures, she is also focused on preventing unfair trade agreements and practices that disadvantage our state's companies and workers.
Environment & Energy
AGRICULTURE AND NUTRITION
Agriculture is a cornerstone of Illinois's economy and a foundational component of our state's history. In Congress, Senator Duckworth is pushing to ensure that the hardworking men and women across the state who have fed generations of Americans have the tools, resources and support they need to grow, prosper and continue to feed and power our nation. She is working alongside Illinois farmers to ensure they have a fair shake and a powerful advocate in Federal policy debates.
In every corner of the state, the agriculture industry faces growing challenges from foreign competition and aging infrastructure. That is one reason Senator Duckworth is working to expand access to new markets and drive down the costs associated with getting agricultural products to market. She is committed to reinforcing the entrepreneurial spirit of Illinois farmers by supporting initiatives that eliminate unnecessary red tape, reduce uncertainty and expand opportunity.
ENVIRONMENT, ENERGY AND GREAT LAKES
Senator Duckworth believes that climate change poses grave national security, public health and economic threats to our nation that Congress must swiftly address. Already, Illinois and states across the country are witnessing more frequent and severe weather events that not only affect growing seasons, increase heat waves and intensify floods—they can also wipe out entire communities. Illinois is facing this global crisis head-on by supporting more than 100,000 clean energy jobs across the state. Clean energy—like wind, solar and biofuels—is not only good for the environment and our energy security but also helps support strong economic growth in Illinois. With the right investments, Senator Duckworth believes we can cut carbon emissions and provide clean affordable electricity for all, all while creating good paying jobs at the same time.
Senator Duckworth is also proud that our state is home to two National Laboratories—Fermi and Argonne—which work on cutting-edge, world-class clean energy research focused on mitigating the threats posed by climate change. As a member of the Senate Energy and Natural Resources Committee, Senator Duckworth is working to ensure sustained and robust funding for the National Laboratory system, which stands at the frontier of our nation's scientific advances. Our National Laboratories represent America's crown jewels in scientific and technological investments.
As a mother and advocate for public health, Senator Duckworth understands how important it is that we protect our air, water and environment. The U.S. Environmental Protection Agency (EPA) Region 5 headquarters is located in Illinois, and every day its scientists and public health experts work to make us healthier and safer by cleaning up the Great Lakes and protecting children and families from toxic pollution. Serving on the influential Senate Environment and Public Works Committee, Senator Duckworth is committed to supporting EPA's dedicated employees who work tirelessly across the region day-in and day-out. She is also working to ensure that programs like the Great Lakes Restoration Initiative continue to help Illinois and the region thrive, while reaching across the aisle to help bring more resources to the Midwest.
TRANSPORTATION AND INFRASTRUCTURE
Senator Duckworth understands the importance of our nation's infrastructure systems to hardworking families and businesses across Illinois. A well-functioning transportation system is critical to our state's economic competitiveness and improving Illinois's infrastructure is one of her top legislative priorities. Whether you're a farmer in Sangamon County, a teacher in Winnebago or a manufacturer from DuPage County, we all rely on our transportation networks to get to work, sell our products or take a much-deserved vacation.
As a member of the U.S. Senate Committees on Environment and Public Works as well as on Commerce, Science and Transportation, Senator Duckworth is committed to working with her colleagues in Congress to help rebuild our nation's infrastructure better than before and ensure our airways, roadways, waterways and communication networks meet the needs of our communities and businesses.
Senator Duckworth successfully delivered for Illinois with her leadership on the Bipartisan Infrastructure Law, which is working to create jobs and deliver safer, more sustainable roads and bridges, faster broadband internet coverage and so much more. With her bipartisan Drinking Water and Wastewater Infrastructure Act (DWWIA) included in the Bipartisan Infrastructure Law, Senator Duckworth is helping our nation upgrade our nation's crumbling and dangerous water infrastructure in order to get the lead of out of our children's drinking water and ensure sewage doesn't seep into families' yards whenever it rains heavily in places like Cahokia Heights. The infrastructure package also included a modified version of her All Stations Accessibility Program (ASAP Act) to help make public transit stations across the country accessible to all Americans, including Americans with disabilities. Illinoisans from Chicago to Cairo, communities large and small—urban, suburban and rural—are benefitting from this law and the jobs it is creating
Health & Education
HEALTHCARE
Senator Duckworth will fight to achieve high-quality, affordable health care for all Americans, and she is willing to work with anyone—regardless of political party—to expand access to health insurance, bring down costs and improve the quality of care for hardworking Illinois families. That means helping develop and advance proposals that protect patients from abusive practices, lower prescription drug costs and guarantee that our nation's Veterans, children, families and most vulnerable citizens receive the high-quality care every American deserves.
Senator Duckworth will continue to fight on behalf of hardworking Illinoisans to make sure Congress is focused on improving and protecting the health and well-being of all Americans.
SENIORS
Senator Duckworth believes Social Security represents a promise the government made to every American who pays into the system. Millions of seniors like her mother depend on the stability and security this program provides. After a lifetime of hard work, Americans deserve to retire with dignity and financial security.
Congress cannot balance the budget on the backs of our most vulnerable. As costs for food, rent and medication increase, seniors are forced to stretch their benefits and make hard choices about basic needs. That is why she is working with her colleagues to make sure families, both in the public and private sector, are able to save enough for retirement.
Senator Duckworth will continue to update the laws and regulations to make sure Congress continues to protect and strengthen the promise of Social Security.
EDUCATION AND WORKER TRAINING
Senator Duckworth strongly believes that every child in this country should have access to a quality public education. She is an advocate for needed investments in our public schools to ensure our nation's workforce is competitive and that every child, regardless of income, has a shot at the American Dream. She supports access to early childhood learning and providing access to equal public education for all students, regardless of how they learn or whether they are able-bodied.
Senator Duckworth is also fighting to make post-secondary education, including college and vocational education, more attainable for all Americans. As someone who relied on Pell Grants and waitressing to pay her own college tuition, she believes expanding public financial aid for higher education will only help our nation's people and economy. Duckworth is also working to allow students to refinance their student loan debt and to enable them to earn college credit through national service. She also supports making community college tuition-free for deserving students to help prepare them for high-skilled jobs and investing in apprenticeships and public-private workforce training partnerships that can help close the skills gap and make it easier for young people to find jobs after graduating.
Human Rights
Public Safety
CIVIL RIGHTS, CRIMINAL JUSTICE REFORM AND GUN SAFETY
Senator Duckworth spent 23 years in the Reserve Forces defending and supporting American values, including the civil rights of all Americans that have helped our people build the greatest nation the world has ever seen. She knows that while we have made great strides towards justice throughout our nation's history, too many Americans continue to face harmful discrimination because of their age, the color of their skin, their disability or the person they love. Senator Duckworth is committed to advancing policies to protect Americans from discrimination in all areas of society. 
Senator Duckworth believes our nation's complex criminal justice system must be reformed and that Congress has an important role to play in restoring trust between law enforcement and local communities. She introduced legislation to require independent and impartial investigations into law enforcement officials' use of deadly force and has been a strong advocate for comprehensive sentencing reform, "ban the box" initiatives and Federal investments in additional training for law enforcement. She has also been a leader in efforts to bring more fairness to the prison video visitation and inmate calling services systems that make it harder for families to maintain contact with incarcerated relatives, something that studies show can reduce recidivism rates and save taxpayer dollars while producing better outcomes for everyone. 
In the wake of daily gun violence in our communities and increasingly-frequent mass shooting incidents, Senator Duckworth believes Congress has a responsibility to do more than send thoughts and prayers.  As a combat Veteran who grew up in a family of marksmen, she knows our nation can do more to keep guns out of the hands of dangerous criminals while protecting Second Amendment rights. She supports common-sense legislation to curb gun violence, including establishing universal background checks, closing the gun show loophole, cracking down on gun trafficking and straw purchasers, banning assault weapons that are more suited for war than for civilian use, limiting the sale of high-capacity magazines and bump stocks that increase the number of people an active shooter can kill or injure in a short period of time and ensuring that individuals on the terrorist watch-list are not able to purchase weapons legally.
IMMIGRATION
As the daughter of an immigrant and a Daughter of the American Revolution, Senator Duckworth is an advocate for comprehensive, fair, humane and just immigration reform because she believes that America is at its best when we embrace our nation's rich immigrant heritage. She understands that immigrants strengthen our economy and our communities by working hard every day to build a better life for themselves and their families and is working to advance immigration policies that reflect that reality.
NATIONAL SECURITY AND FOREIGN RELATIONS
Senator Duckworth devoted over twenty years of her life in service to this country in the Reserve Forces. As a former Army officer, she understands the security challenges our nation must contend with and the risks our Armed Forces face. As a Senator, she is committed to ensuring American troops have the equipment and technology they need to keep our nation safe, and to supporting policies that improve their quality of life. She is also committed to rooting out waste within the Department of Defense and opposing harmful policies that discriminate against or dishonor our nation's warriors.
Senator Duckworth knows that Congress has an obligation to provide our troops downrange with clear guidance and legal authority for their operations and is helping lead the efforts to provide them with an updated Authorization for Use of Military Force for the war on terror. Illinois is home to Scott Air Force Base, Rock Island Arsenal and the Naval Station Great Lakes and Senator Duckworth is committed to advocating for these military installations to ensure they can continue to support our nation's security and our state's economic growth.
A strong and robust military is a principal pillar of our nation's power, but is only one element in securing our national security. Senator Duckworth believes one of America's greatest strengths is our system of democratic values and constitutionally-protected freedoms and rights. As the United States continues to lead in an increasingly interconnected world, it is important that we match our military power with the promotion of our values through diplomatic means. Defending and advancing our principles abroad will help our country effectively support international allies while confronting shared adversaries and threats.
She recognizes that the national security challenges facing our country will only grow in complexity and size in the coming years. Whether it's countering the threats posed by global terrorism, the proliferation of nuclear weapons, sharing intelligence to prevent terrorist attacks or simply working together to respond to major global challenges, effective international cooperation is more important than ever when it comes to advancing our core security interests overseas to help make Americans safer at home.
VETERANS
As an Iraq War combat Veteran who went on to serve at the Department of Veterans Affairs (VA), and who still receives her medical care there, Senator Duckworth understands the unique needs our Veterans face. She believes in the VA's integrated system of care and remains committed to improving it for Veterans in Illinois and across the country. She also knows our country has an obligation to support our Veterans by making sure they have timely access to the health, retirement, disability and educational benefits they earned through their service and sacrifice.
After serving 23 years in the Reserve Forces, Senator Duckworth remains committed to the brave men and women who serve our nation from the moment they put on the uniform to long after they transition into civilian life. As our military and Veteran population grows and changes, she is committed to updating and refining policies to meet the needs of current and future Veterans and their families.
See Also
Google Search
More Web Links
Wikipedia
Ladda Tammy Duckworth[2] (born March 12, 1968) is an American politician and retired Army National Guard lieutenant colonel serving as the junior United States senator from Illinois since 2017. A member of the Democratic Party, she represented Illinois's 8th congressional district in the United States House of Representatives from 2013 to 2017.
Duckworth was educated at the University of Hawaii at Manoa and George Washington University. A combat veteran of the Iraq War, she served as a U.S. Army helicopter pilot. In 2004, when her helicopter was hit by a rocket-propelled grenade fired by Iraqi insurgents, she lost both legs and some mobility in her right arm. She was the first female double amputee from the war.[3] Despite her injuries, she sought and obtained a medical waiver that allowed her to continue serving in the Illinois Army National Guard until she retired as a lieutenant colonel in 2014.
Duckworth ran unsuccessfully for a seat in the United States House of Representatives in 2006, then served as director of the Illinois Department of Veterans Affairs from 2006 to 2009 and as assistant secretary for public and intergovernmental affairs at the United States Department of Veterans Affairs from 2009 to 2011. In 2012, Duckworth was elected to the U.S. House of Representatives, where she served two terms. Duckworth was elected to the U.S. Senate in 2016, defeating Republican incumbent Mark Kirk.[4] She is the first Thai American woman elected to Congress, the first person born in Thailand elected to Congress, the first woman with a disability elected to Congress, the first female double amputee in the Senate, and the first senator to give birth while in office. Duckworth is the second of three Asian American women to serve in the U.S. Senate, after Mazie Hirono, and before Kamala Harris.
Early life and education
Duckworth was born in Bangkok, Thailand, the daughter of Franklin Duckworth and Lamai Sompornpairin.[5] Although born outside the United States, Duckworth is a natural-born citizen through her father's status as an American citizen.[6] Her father, who died in 2005,[7] was a veteran of the U.S. Army and U.S. Marine Corps[8] who traced his family's American roots to the American Revolutionary War.[9] Her mother is Thai Chinese[10] and originally from Chiang Mai.[11] Her father worked with the United Nations and international companies in refugee, housing, and development programs,[12] and the family moved around Southeast Asia. Duckworth became fluent in Thai and Indonesian, in addition to English.[13]
Duckworth attended Singapore American School, the International School Bangkok, and the Jakarta International School.[14][15] The family moved to Honolulu, Hawaii, when Duckworth was 16, and she attended Honolulu's McKinley High School, where she participated in track and field and graduated in 1985.[16] Because of a difference in the grade levels between the school systems she attended, Duckworth skipped half of her ninth grade year and half of her tenth.[17] She was a Girl Scout, and earned her First Class, now called the Gold Award.[18] Her father was unemployed for a time, and the family relied on public assistance.[12] She graduated from the University of Hawaii at Manoa in 1989 with a Bachelor of Arts in political science. In 1992, she received a Master of Arts in international affairs from George Washington University's Elliott School of International Affairs.[19][20] She began a PhD program at Northern Illinois University, which was interrupted by her war service.[21] She completed a PhD in human services at Capella University in March 2015.[22]
Military service
Following in the footsteps of her father, who served in World War II and the Vietnam War,[8] and ancestors who served in every major conflict since the Revolutionary War,[9] Duckworth joined the Army Reserve Officers' Training Corps[23] in 1990 as a graduate student at George Washington University.[24][25] She became a commissioned officer in the United States Army Reserve in 1992 and chose to fly helicopters[23] because it was one of the few combat jobs open to women at that time.[26] As a member of the Army Reserve, she went to flight school, later transferring to the Army National Guard and in 1996 entering the Illinois Army National Guard.[23] Duckworth also worked as a staff supervisor at Rotary International headquarters in Evanston, Illinois,[27][28] and was the coordinator of the Center for Nursing Research at Northern Illinois University.[29]
Duckworth was working toward a Ph.D. in political science at Northern Illinois University, with research interests in the political economy and public health of southeast Asia, when she was deployed to Iraq in 2004.[27] She lost her right leg near the hip and her left leg below the knee[30] from injuries sustained on November 12, 2004, when the UH-60 Black Hawk helicopter she was co-piloting was hit by a rocket-propelled grenade fired by Iraqi insurgents.[31] She was the first American female double amputee from the Iraq War.[3] The explosion severely broke her right arm and tore tissue from it, necessitating major surgery to repair it. Duckworth received a Purple Heart[31] on December 3 and was promoted to Major on December 21 at the Walter Reed Army Medical Center,[32] where she was presented with an Air Medal and Army Commendation Medal.[31] She retired from the Illinois Army National Guard in October 2014 as a lieutenant colonel.[33]
In 2011 the Daughters of the American Revolution erected a statue with Duckworth's likeness and that of Molly Pitcher in Mount Vernon, Illinois. The statue was dedicated to female veterans.[34]
Government service
On November 21, 2006, several weeks after losing her first congressional campaign, Duckworth was appointed director of the Illinois Department of Veterans Affairs by Governor Rod Blagojevich.[35][36] She served in that position until February 8, 2009. While director, she was credited with starting a program to help veterans with post-traumatic stress disorder (PTSD) and veterans with brain injuries.[37]
On September 17, 2008, Duckworth attended a campaign event for Dan Seals, the Democratic candidate for Illinois's 10th congressional district. She used vacation time, but violated Illinois law by going to the event in a state-owned van that was equipped for a person with physical disabilities. She acknowledged the mistake and repaid the state for the use of the van.[38]
In 2009, two Illinois Department of Veterans Affairs employees at the Anna Veterans' Home in Union County filed a lawsuit against Duckworth.[39] The lawsuit alleged that she wrongfully terminated one employee and threatened and intimidated another for bringing reports of abuse and misconduct of veterans when she was head of the Illinois Department of Veterans Affairs.[40] Duckworth was represented in the suit by the Illinois Attorney General's office.[41] The case was dismissed twice but refilings were allowed.[42][43] The case settled in June 2016 for $26,000 with no admission of wrongdoing.[42] The plaintiffs later indicated they no longer wanted to settle, but the judge gave them 21 days to sign the settlement and canceled the trial.[44][45]
On February 3, 2009, President Barack Obama nominated Duckworth to be the Assistant Secretary of Public and Intergovernmental Affairs for the United States Department of Veterans Affairs (VA).[46] and the United States Senate confirmed her for the position on April 22.[47] As Assistant Secretary, she coordinated a joint initiative with the U.S. Department of Housing and Urban Development to help end Veteran homelessness, worked to address the unique challenges faced by female as well as Native American Veterans, and created the Office of Online Communications to improve the VA's accessibility, especially among young Veterans.[48] Duckworth resigned her position in June 2011 in order to launch her campaign for the U.S. House of Representatives in Illinois's 8th congressional district.[49]
U.S. House of Representatives
Elections
2006
After longtime incumbent Republican Henry Hyde announced his retirement from Congress, several candidates began campaigning for the open seat. Duckworth won the Democratic primary with a plurality of 44%, defeating 2004 nominee Christine Cegelis with 40%, and Wheaton College professor Lindy Scott with 16%. State Senator Peter Roskam was unopposed in the Republican primary. For the general election, Duckworth was endorsed by EMILY's List, a political action committee that supports female Democratic candidates who back abortion rights.[50] Duckworth was also endorsed by the Brady Campaign to Prevent Gun Violence and the Fraternal Order of Police.[51][52] While she raised $4.5 million to Roskam's $3.44 million, Duckworth lost by 4,810 votes, receiving 49% to Roskam's 51%.[53]
2012
In July 2011, Duckworth launched her campaign to run in 2012 for Illinois's 8th congressional district. She defeated former Deputy Treasurer of Illinois Raja Krishnamoorthi for the Democratic nomination on March 20, 2012, then faced incumbent Republican Joe Walsh in the general election.[54] Duckworth received the endorsement of both the Chicago Tribune and the Daily Herald.[55][56] Walsh generated controversy when in July 2012, at a campaign event, he accused Duckworth of politicizing her military service and injuries, saying "my God, that's all she talks about. Our true heroes, the men and women who served us, it's the last thing in the world they talk about." Walsh called the controversy over his comments "a political ploy to distort my words and distract voters" and said that "Of course Tammy Duckworth is a hero … I have called her a hero hundreds of times."[57]
On November 6, 2012, Duckworth defeated Walsh 55%–45%,[58] making her the first Asian-American from Illinois in Congress,[59] the first woman with a disability elected to Congress,[60] and the first member of Congress born in Thailand.[61]
2014
In the 2014 general election, Duckworth faced Republican Larry Kaifesh, a United States Marine Corps officer who had recently left active duty as a colonel.[62] Duckworth defeated Kaifesh with 56% of the vote.[63]
Tenure
Duckworth was sworn into office on January 3, 2013.[64]
On April 3, 2013, Duckworth publicly returned 8.4% ($1,218) of her congressional salary for that month to the United States Department of Treasury in solidarity with furloughed government workers.[65]
On June 26, 2013, during a hearing of the House Oversight and Government Reform Committee, Duckworth received national media attention after questioning Strong Castle CEO Braulio Castillo on a $500 million government contract the company had been awarded based on Castillo's disabled veteran status.[66][67] Castillo had injured his ankle at the US Military Academy's prep school, USMAPS, in 1984.[68]
Committee assignments
U.S. Senate
Elections
2016
On March 30, 2015, Duckworth announced that she would challenge incumbent Republican U.S. Senator Mark Kirk for his seat in the 2016 Senate election in Illinois.[69] Duckworth defeated fellow Democrats Andrea Zopp and Napoleon Harris in the primary election on March 15, 2016.[70]
During a televised debate on October 27, 2016, Duckworth talked about her ancestors' past service in the United States military. Kirk responded, "I'd forgotten that your parents came all the way from Thailand to serve George Washington." The comment led to the Human Rights Campaign withdrawing their endorsement of Kirk and switching it to Duckworth, stating his comments were "deeply offensive and racist."[71][72]
Duckworth was endorsed by Barack Obama, who actively campaigned for her.[73]
On November 8, Duckworth defeated Kirk 55 percent to 40 percent to win the Senate seat.[74] Duckworth and Kamala Harris, who was also elected in 2016, are the second and third female Asian American senators, after Mazie Hirono who was elected in 2012.[4]
2022
Duckworth has announced her candidacy for reelection in 2022.[75]
Tenure
First term (2017-present)
According to The Center for Effective Lawmaking (CEL), a joint partnership between the University of Virginia's Frank Batten School of Leadership and Public Policy and Vanderbilt University,[76] Duckworth's "Legislative Effectiveness Score" (LES) is "Exceeds Expectations" as a freshman senator in the 115th Congress (2017–2018), the 11th highest out of 48 Democratic senators.[77]
GovTrack's Report Card on Duckworth for the 115th Congress found that among Senate freshmen, she ranked first in favorably reporting bills out of committee and "Got influential cosponsors the most often compared to Senate freshmen."[78] GovTrack also found that in the first session of the 116th Congress, Duckworth ranked first in favorably reporting bills out of committee and "Got influential cosponsors the most often compared to Senate sophomores."[79]
During the 115th Congress, Duckworth was credited with saving the Americans with Disabilities Act.[80] Specifically, she led public opposition to a controversial bill, H.R. 620,[81] and led 42 senators in pledging to oppose any effort to pass H.R. 620 through the Senate.[82] The Veterans Service Organization and Paralyzed Veterans of America recognized Duckworth's leadership in defending the Americans with Disabilities Act.[83]
In January 2018, when the federal government shut down after the Senate could not agree on a funding bill, Duckworth responded to President Trump's accusations that the Democrats were putting "unlawful immigrants" ahead of the military:
I spent my entire adult life looking out for the well-being, the training, the equipping of the troops for whom I was responsible. Sadly, this is something that the current occupant of the Oval Office does not seem to care to do—and I will not be lectured about what our military needs by a five-deferment draft dodger. And I have a message for Cadet Bone Spurs: If you cared about our military, you'd stop baiting Kim Jong Un into a war that could put 85,000 American troops, and millions of innocent civilians, in danger.[84]
In 2018, Duckworth became the first U.S. senator to give birth while in office.[85] Shortly afterward, the Senate passed Senate Resolution 463, which Duckworth introduced on April 12, 2018,[86] by unanimous consent. The resolution changed Senate rules so that a senator may bring a child under one year old to the Senate floor during votes.[87] The day after the rules were changed, Duckworth's daughter became the first baby on the Senate floor.[86][88]
On April 15, 2020, the Trump administration invited Duckworth to join a bipartisan task force on the reopening of the economy amid the COVID-19 pandemic.[89]
Duckworth was publicly critical of Trump's decision to nominate Amy Coney Barrett to the Supreme Court in September 2020. Barrett, a devout Catholic, is a member of a group that considers in vitro fertilization morally illicit. Duckworth said that Barrett's membership in such an organization was "disqualifying and, frankly, insulting to every parent". Both of Duckworth's children were conceived by IVF.[90]
The Center for Effective Lawmaking, a joint initiative of the University of Virginia and Vanderbilt University, ranked Duckworth the fifth most effective Democratic senator in the 116th Congress and the most effective Democratic senator on transportation policy.[91] Professors Craig Volden and Alan Wiseman, co-directors of the Center for Effective Lawmaking, stated, "While still in her first term, Senator Tammy Duckworth has risen to the top five among effective Democratic lawmakers in the Senate. She sponsored 77 bills in the 116th Congress, with four of them passing the Republican-controlled Senate and two becoming law."[92]
Duckworth was participating in the certification of the 2021 United States Electoral College vote count when Trump supporters stormed the U.S. Capitol. In the wake of the attack, Duckworth called Trump "a threat to our nation" and called for his immediate removal from office through the invocation of the Twenty-fifth Amendment to the United States Constitution or impeachment.[93] Two days later, on January 8, she also called for the resignation of Representative Mary Miller, who had quoted Adolf Hitler during a speech on January 5.[94]
In June 2022, President Biden sent Duckworth to Taiwan, where she held a press conference with Tsai Ing-wen to announce the U.S.-Taiwan Initiative on 21st-Century Trade in the wake of fears of angering China by the other partners to the May 2022 Indo-Pacific trade agreement.[95][96] Duckworth's mission was planned in conjunction with the U.S. Trade Representative's office, which leads the Initiative for Washington.[96]
Duckworth is the sponsor of S. 3635, the Public Safety Officer Support Act of 2022, which would provide line of duty death designation to law enforcement and other public safety officers who die as a result of traumatic brain injury, PTSD, and other "silent" injuries.[97] The bill is based on the death of Washington, D.C. police officer Jeffrey Smith in the aftermath of the January 6, 2021, Capitol attack. Smith died of post-concussive syndrome after suffering repeated attacks at the Capitol.[98][99]
Committee assignments
Current
Previous
Caucus memberships
National politics
Duckworth has spoken at the 2008, 2012, 2016, and 2020 Democratic National Conventions.[102][103][104] She was the permanent co-chair of the 2020 Democratic National Convention.[105] At the 2020 convention she called Trump "coward-in-chief" for not supporting the American military.[106][107]
Duckworth was vetted as a possible running mate during Joe Biden's vice presidential candidate selection.[108] Fellow U.S. Senator Kamala Harris was instead selected. Biden nominated Duckworth to serve as Vice Chair of the Democratic National Committee, along with Gretchen Whitmer, Keisha Lance Bottoms and Filemon Vela Jr.[109]
Political positions
Environment
In April 2019, Duckworth was one of 12 senators to sign a bipartisan letter to top senators on the Appropriations Subcommittee on Energy and Water Development advocating that the Energy Department be granted maximum funding for carbon capture, utilization and storage (CCUS), arguing that American job growth could be stimulated by investment in viable options to capture carbon emissions and expressing disagreement with Trump's 2020 budget request to combine the two federal programs that include carbon capture research.[110]
Foreign policy
During her unsuccessful congressional campaign in 2006, Duckworth called on Congress to audit the estimated $437 billion spent on overseas military and foreign aid since September 11, 2001.[111]
On September 30, 2006, Duckworth gave the Democratic Party's response to President George W. Bush's weekly radio address. In it, she was critical of Bush's strategy for the Iraq War.[112]
In October 2006, The Sunday Times reported that Duckworth agreed with General Sir Richard Dannatt, the British Army chief, that the presence of coalition troops was exacerbating the conflict in Iraq.[113]
Duckworth supports continued U.S. military aid to Israel and opposes the movement for Boycott, Divestment and Sanctions (BDS) against Israel. She voiced her opposition to Israel's plan to annex parts of the occupied West Bank.[114]
In May 2019, Duckworth was a cosponsor of the South China Sea and East China Sea Sanctions Act,[115] a bipartisan bill reintroduced by Marco Rubio and Ben Cardin that was intended to disrupt China's consolidation or expansion of its claims of jurisdiction over both the sea and air space in disputed zones in the South China Sea.[116]
On June 6, 2021, Duckworth and Senators Dan Sullivan and Christopher Coons visited Taipei in an U.S. Air Force C-17 Globemaster III transport to meet President Tsai Ing-wen and Minister Joseph Wu during the pandemic outbreak of Taiwan to announce President Joe Biden's donation plan of 750,000 COVID-19 vaccines included in the global COVAX program.[117][118]
Gun law
Duckworth was rated by the National Rifle Association as having a pro-gun control congressional voting record.[119] Duckworth, who is a gun owner herself, cites violence in Chicago as a major influence for her support of gun control. She supports universal background checks and the halting of state-to-state gun trafficking.[120]
Duckworth participated in the 2016 Chris Murphy gun control filibuster. During the sit-in, Duckworth hid her mobile phone in her prosthetic leg to avoid it being taken away from her since taking pictures and recording on the House floor is against policy.[120]
In a 2016 interview with GQ magazine, Duckworth stated that gaining control of the Senate and "closing the gap" in the House would be necessary in order to pass common sense gun laws. She also stated that she believed moderate Republicans, who support common sense gun control, would have more power to influence gun control if they were not "pushed aside by those folks who are absolutely beholden to the NRA. And so we never get the vote."[120]
Health policy
Duckworth supports abortion rights.[121][122] After Roe v. Wade was overturned in 2022, Duckworth said she was "outraged and horrified." She called the decision a "nightmare", robbing women of their right to make health care decisions.[123]
Duckworth supported the Affordable Care Act.[124]
Immigration
Duckworth supports comprehensive immigration reform with a pathway to citizenship for those in the country illegally. She would admit 100,000 Syrian refugees into the United States.[124]
In August 2018, Duckworth was one of seventeen senators to sign a letter spearheaded by Kamala Harris to United States Secretary of Homeland Security Kirstjen Nielsen demanding that the Trump administration take immediate action in attempting to reunite 539 migrant children with their families, citing each passing day of inaction as intensifying "trauma that this administration has needlessly caused for children and their families seeking humanitarian protection."[125]
Awards and accolades
In May 2010, Duckworth was awarded the Honorary degree of Doctor of Humane Letters (DHL) by Northern Illinois University.[126][127] In 2011, Chicago's Access Living honored Duckworth for her work on behalf of veterans with disabilities, bestowing her with the Gordon H. Mansfield Congressional Leadership Award.[128]
Duckworth is heavily decorated for her service in Iraq, with over 10 distinct military honors, most notably the Purple Heart, an award her Marine father had also received.[31]
Former Republican presidential candidate and Senator from Kansas Bob Dole dedicated his autobiography One Soldier's Story in part to Duckworth.[129] Duckworth credits Dole for inspiring her to pursue public service, while she recuperated at Walter Reed Army Medical Center; although, in 2006, Dole endorsed Duckworth's Republican opponent, Peter Roskam.[130]
Personal life
Duckworth has been married to Bryan Bowlsbey since 1993.[131] They met during Duckworth's participation in the Reserve Officers' Training Corps and later served together in the Illinois Army National Guard.[131] Bowlsbey, a Signal Corps officer, is also a veteran of the Iraq War.[131][132] Both have since retired from the armed forces.[133]
Duckworth and Bowlsbey have two daughters: Abigail, who was born in 2014,[134] and Maile, born in 2018.[135] Maile's birth made Duckworth the first U.S. senator to give birth while in office.[135][136] Former senator Daniel Akaka helped the couple with the naming of both daughters; Akaka died April 6, 2018, three days before Maile was born.[137] Shortly after Maile's birth, a Senate rule change permitted senators to bring children under one year old on the Senate floor to breastfeed.[86] This was a symbolic moment for Duckworth, as she had previously introduced the bipartisan Friendly Airports for Mothers (FAM) Act to ensure new mothers access to safe, clean and accessible lactation rooms in airports.[48] The day after the rule change, Duckworth brought Maile with her during the casting of a Senate vote, making Duckworth the first senator to cast a vote while holding a baby.[86][88]
Duckworth helped establish the Intrepid Foundation to help injured veterans.[138]
Electoral history
Illinois 6th Congressional District Democratic Primary, 2006[139]

Party
Candidate
Votes
%
Democratic
L. Tammy Duckworth
14,283
43.85
Democratic
Christine Cegelis
13,159
40.40
Democratic
Lindy Scott
5,133
15.76
Total votes
32,575
100.0
Illinois 6th Congressional District General Election, 2006[140]

Party
Candidate
Votes
%
Republican
Peter J. Roskam
91,382
51.35
Democratic
L. Tammy Duckworth
86,572
48.65
Write-in votes
Patricia Elaine Beard
3
0.00
Total votes
177,957
100.0
Illinois 8th Congressional District General Election, 2014[143]

Party
Candidate
Votes
%
Democratic
Tammy Duckworth (incumbent)
84,178
55.73
Republican
Larry Kaifesh
66,878
44.27
Total votes
151,056
100.0
Illinois U.S. Senator (Class III) General Election, 2016[145]

Party
Candidate
Votes
%
Democratic
Tammy Duckworth
3,012,940
54.86
Republican
Mark Steven Kirk (incumbent)
2,184,692
39.78
Libertarian
Kenton McMillen
175,988
3.20
Green
Scott Summers
117,619
2.14
Write-in votes
Chad Koppie
408
0.01
Write-in votes
Jim Brown
106
0.00
Write-in votes
Christopher Aguayo
77
0.00
Write-in votes
Susana Sandoval
42
0.00
Write-in votes
Eric Kufi James Stewart
5
0.00
Write-in votes
Patricia Beard
1
0.00
Total votes
5,491,878
100.0
Bibliography
See also
References
External links