Summary
Current Position: US Representative for IL District 4 since 2019
Affiliation: Democrat
Former Position(s): Cook County Board of Commissioners from 2011 – 2018; State Senator from 1993 – 1999; Chicago City Council from 1986 – 1993
Other Positions: 
Vice Chair, House Committee on Natural Resources
Featured Quote: 
I joined organizations and progressive colleagues in DC to uplift your voices and say 'We can't wait and we won't wait!' An infrastructure deal without climate, citizenship, healthcare, and good jobs is NO DEAL! We need bold solutions – the millions counting on us cannot wait!
Featured Video: 
Congressman Jesús "Chuy" García Exposes Big Banks for Exploiting Puerto Rico
News
WASHINGTON, D.C. –Representatives Jesús "Chuy" García, Alexandria Ocasio-Cortez, Rashida Tlaib, Ayanna Pressley and Mondaire Jones released today a statement urging President Biden to appoint a new Federal Reserve Chair rather than reappoint Jerome Powell. The full statement follows.
"As news of the possible reappointment of Federal Reserve Chair Jerome Powell circulates, we urge President Biden to re-imagine a Federal Reserve focused on eliminating climate risk and advancing racial and economic justice. This consequential appointment has the potential to remake the composition of the Board of Governors. While the Federal Reserve has made positive changes to its approach to full employment reflected in the new monetary policy framework, our concerns with Chair Powell's track record are two-fold. Under his leadership the Federal Reserve has taken very little action to mitigate the risk climate change poses to our financial system. To illustrate, the Federal Reserve received a D- rating for its approach to climate risk policies from Positive Money's Global Central Bank Scorecard, placing it at the bottom of the G20 Central Banks. At a time when the Intergovernmental Panel on Climate Change is warning of the potential catastrophic and irreversible damage inflicted by a changing climate, we need a leader at the helm that will take bold and decisive action to eliminate climate risk. Secondly, under Chair Powell the Federal Reserve has substantially weakened many of the reforms enacted in the wake of the Great Recession regulating the largest banks, including capital and liquidity requirements, stress tests, the Volcker Rule, and living will requirements. During the 2008-financial crisis, millions of Americans lost their homes and jobs, and many have failed to fully recover. Weakening financial regulations that were specifically created to prevent such a disaster from happening again, risks the livelihoods of Americans across the country. To move forward with a whole of government approach that eliminates climate risk while making our financial system safer, we need a Chair who is committed to these objectives. We urge the Biden Administration to use this opportunity to appoint a new Federal Reserve Chair."
Twitter
About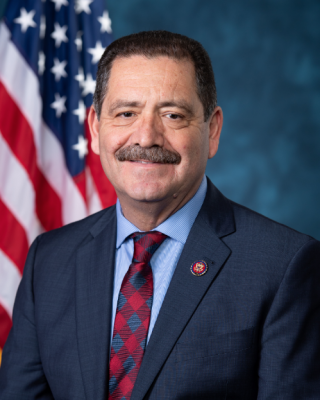 Source: Government page
U.S. Representative Jesús G. "Chuy" García proudly represents the Fourth Congressional District of Illinois. He was sworn into office on January 3, 2019, during the 116th Congress.
Throughout his career, Congressman García has been a progressive voice fighting to improve the lives of his working-class neighbors, many of whom are immigrants like him. He is a coalition builder committed to empowering youth and expanding access to quality education, affordable housing, and economic opportunity.
He currently serves as a member of the influential Financial Services Committee, Natural Resources Committee, and the Transportation and Infrastructure Committee. He is a member of the Congressional Hispanic Caucus (CHC), Congressional Progressive Caucus (CPC), the Congressional Equality Caucus, Congressional Pro-Choice Caucus, and New Americans Caucus. He is also the founder the Future of Transportation Caucus.
Congressman García was born in Los Pinos, a small village in the Mexican state of Durango. He is the youngest of four children raised by his mother while his father worked in the United States, first under the WWII-era bracero program and later at a cold-storage plant in Chicago. In 1965, Congressman García and his family immigrated to the United States with permanent resident status. He still remembers his first American meal: a bologna sandwich from a roadside diner in Texas.
Prior to his election to Congress in November of 2018, Congressman García was a member of the Cook County Board of Commissioners. As Commissioner, he opposed housing discrimination against disadvantaged communities, raised the minimum wage, and mandated that County employees have access to paid sick leave. He also passed an ordinance ending Cook County's cooperation with the Immigration and Customs Enforcement Agency (ICE). The measure was the first of its kind in the nation and set an example followed by more than 250 localities.
Congressman García began organizing for workers' rights and more inclusive city services during his college years at University of Illinois in Chicago (UIC). He first entered political life in 1984, when he was elected Committeeman of the Cook County Democratic Party. He quickly earned recognition as a coalition builder between Chicago's Latino and African American communities.
Soon afterward, Congressman García was elected to represent Chicago's 22nd Ward on the City Council. During his time as Alderman, Congressman García prevented non-attorney immigration practitioners from levying unreasonable fees. In 1986, he became the Chairman for the Council's Committee on Aviation, where he helped implement the Automated Guideway Transit (ATG) at O'Hare International Airport.
Mr. García also served as State Senator of Illinois' 1st District. In 1993, he passed the Language Assistance Services Act, which requires hospitals and long-term care facilities to provide resources for effective communication with limited-English-speaking and deaf patients.
In 2015, Congressman García became the first Chicago mayoral candidate to push a sitting mayor into a run-off.
Congressman García still lives in the Little Village neighborhood of Chicago with his beloved wife Evelyn and has three adult children.
Voting Record
Caucuses 
Congressional Caucus to End the Youth Vaping Epidemic
Congressional Hispanic Caucus (CHC)
Congressional Progressive Caucus (CPC), Vice Chair At Large
Congressional Pro-Choice Caucus
Future of Transportation Caucus, Founding Member
New Americans Caucus
Offices
Washington, DC 20515
(202) 225-8203
Monday – Friday
9:00 AM – 6:00 PM
Chicago, IL 60639
(773) 342-0774
Monday – Friday
8:30 AM – 5:30 PM
Chicago, IL 60632
(773) 475-0833
Monday – Friday
8:30 AM – 5:30 PM
Web
Government Page, Campaign Site, Twitter, YouTube, Facebook, Wikipedia
Politics
Source: none
Campaign Finance
Open Secrets – We Follow the Money
Voting Record
VoteSmart – Key Votes & Ratings
Search
Wikipedia Entry
Jesús G. "Chuy" García (born April 12, 1956) is an American politician serving as the U.S. Representative for Illinois's 4th district since 2019.[1] A member of the Democratic Party, he served on the Cook County Board of Commissioners, Illinois Senate, as well as Chicago City Council before his election to Congress. A candidate for mayor of Chicago in the 2015 election,[2] García finished second in the February 24 general election and forced a head-to-head runoff against the incumbent, Rahm Emanuel. Emanuel won the April 7 runoff.
García was first elected to the Chicago City Council in 1986, and in 1992 became the first Mexican-American member of the Illinois Senate. In 2010, García won election to the 7th district of the Cook County Board of Commissioners, and after his election was appointed floor leader by Cook County President Toni Preckwinkle.[2][3] He won a seat in the U.S. House in the 2018 election, replacing retiring Representative Luis Gutiérrez.
Early life and education
García was born in Mexico in the state of Durango. His father was a farm laborer under the U.S. government's World War II-era bracero program.
García moved to the US in 1965 with permanent resident status. The family settled in the Little Village neighborhood of Chicago, Illinois, where García continues to reside. He attended St. Rita High School, graduating in 1974. García became a citizen of the United States in 1977.[4]
García worked at the Legal Assistance Foundation from 1977 to 1980 as he worked towards a B.A. in Political Science at the University of Illinois at Chicago.[5] He then became Assistant Director of the Little Village Neighborhood Housing Service, where he worked until 1984.[5]
Early political career
Chicago City Council
In 1983, García was the campaign manager for labor organizer Rudy Lozano, who challenged longtime alderman Frank Stemberk of the 22nd Ward.[5] In the February 1983 election, Lozano came 17 votes short of forcing a runoff, which his supporters contended was due to voters with Spanish surnames being purged from the rolls, denying him the votes to force a runoff.[5] Lozano was murdered in June 1983, shot to death in his home. A reputed gang member was convicted of Lozano's murder, but his supporters still contend that he was assassinated for his labor and political activities.[5] In 1984, García challenged Stemberk for his place as a Committeeman in the Cook County Democratic Party. Supporters of Lozano rallied around him and he received the endorsement of Mayor Harold Washington.[5] Stemberk was a supporter of alderman Edward Vrdolyak of the 10th Ward, who controlled the City Council and opposed Mayor Washington's administration. This divide within city government was dubbed the "Council Wars" by the Chicago media. With Lozano supporters taking to the race with a "religious fervour" and Washington campaigning heavily on García's behalf, he defeated Stemberk by 2,811 votes (40.62%) to 2,752 (39.77%), with activist and former labor union leader August Sallas taking 1,357 (19.61%).[5] Unlike other committeemen and women, García used his office to provide constituent services, which helped him maintain his high profile.[5] García was also appointed Deputy Commissioner of the Department of Water by Washington, a post he held from 1984 to 1986.[5]
Meanwhile, Washington's allies had sued the city in federal court, claiming that the ward map drawn up after the 1980 Census had unfairly dispersed black and Hispanic voters. At that time, whites were about 40% of the city's population, blacks were also about 40%, and Hispanics were about 15%, but there were 33 white aldermen, only 16 blacks and just 1 Hispanic. In December 1985, as a result of a November 1985 ward remap, judge Charles Ronald Norgle Sr. of the United States District Court for the Northern District of Illinois ordered a special election for March 18, 1986 in seven wards, including the 22nd.[5] The special elections gave Washington the opportunity to wrest control of the city council from Vrdolyak.[5] Stemberk chose not to run for re-election and García declared his candidacy.[5] In the nonpartisan election, García faced supermarket owner and Stemberk ally Guadalupe Martinez and beauty supply store owner Fred Yanez.[5] Yanez emphasised his military service and Martinez called García "100 percent Communist" and criticised him for selling garbage cans, which Martinez gave away for free.[5] García won by 3,293 votes (54.58%) to Martinez' 2,013 (33.37%) and Yanez' 727 (12.05%),[6] carrying 26 of the 27 precincts.[5] García was also re-elected Committeeman with 53.98% of the vote, carrying 24 of the 27 precincts.[5] His election and the victory of two other Washington supporters meant that Vrdolyak's supporters had a one-seat majority. Six weeks later, Washington ally Luis Gutiérrez won a runoff in the 26th Ward and the council was thus evenly split between Washington and Vrdolyak supporters. Washington had the ability to cast tie-breaking votes, Vrdolyak was stripped of his powers and the Council Wars ended.[5] García was re-elected with 3,998 votes (53.59%) in 1987[7] and with 2,707 votes (52.36%) in 1991.[8] On the council, he served on the Budget and Government Operations; Committees, Rules, Municipal Code Revision and Ethics; Economic Development; Education; Finance; License; Ports, Wharves, and Bridges; Streets and Alleys; Traffic Control and Safety committees and chaired the Aviation committee.[5]
Illinois Senate
Democratic State Senator Howard W. "Howie" Carroll of the 1st district of the Illinois Senate was redistricted to the 8th district, and in 1992 García ran for the Illinois Senate in the 1st district, winning the open-seat Democratic primary with 8,604 votes (52.06%) to Donald C. Smith's 6,159 (37.26%) and Gilbert G. Jimenez's 1,765 (10.68%).[9] The primary was tantamount to election in the heavily Democratic 1st district and in the general election, and García defeated Republican nominee Esequiel "Zeke" Iracheta by 21,314 votes (81.74%) to 4,762 (18.26%). García was the first Illinois State Senator of Mexican descent.[10] García resigned from the City Council and was succeeded by his protégé Ricardo Muñoz.
In the 1996 Democratic primary, he was challenged by Alderman Juan Soliz of the 25th Ward. Soliz, who had also been elected in the March 1986 special elections, had been supported by Vrdolyak, earning him the ire of Chicago Hispanics. When Soliz was elected, he called for unity among Hispanic aldermen, a plea which they ignored.[5] Soliz and García even celebrated their inaugurations by hiring separate Mariachi bands to play outside the council chambers.[5] After Soliz was replaced as Chairman of the Aviation Committee by García, he derided it as a "racist move," though they were both Mexican-Americans.[5] García defeated Soliz by 6,839 votes (59.34%) to 4,686 (40.66%).[11] García was re-elected unopposed in the general election.[12] In office, García helped shepherd "immigrant-friendly" health care and education reforms through the legislature.[13] García was defeated in the 1998 Democratic primary election by Antonio Munoz, who was backed by the Hispanic Democratic Organization, Mayor Richard M. Daley's campaign group and political machine. Munoz defeated García by 6,924 votes (53.72%) to 5,964 (46.28%).[14] Alderman Ricardo Muñoz (no relation to Antonio Munoz), talking in 2010 about his mentor's defeat, said: "Part of the rationale that I think Chuy lost in '98 was that we got sloppy and they [Munoz and the HDO] got lucky. It rained all day, and we didn't have raincoats for our guys until 11 o'clock. By that time, they were frozen stiff. So we lost the field game."[15]
Political interregnum
After his defeat, García left office in January 1999, founded and became Executive Director of the Little Village Community Development Corporation. He helped grow what is now known as Enlace to twenty-seven full-time employees, 120 part-time employees, and an annual budget of $5 million.[16] In June 2005, he helped found the Latino Action Research Network, a PAC to help better represent the city's Latino population.[17]
On Mother's Day 2001, García and members of the group demanded the construction of a high school promised to the community, but unfunded. Fourteen parents and grandparents organized a hunger strike. While Paul Vallas, the CEO of Chicago Public Schools, initially refused to meet with the hunger strikers, by the end of the first week, he visited their tent to negotiate terms.[18] The hunger strike lasted nineteen days and increased public pressure on the school district to fund the project. In August 2001, the newly appointed CEO of Chicago Public Schools, Arne Duncan, reallocated funds to begin construction on the school.[18] Community members continued to advocate for participation in designing the new school, and door-to-door parent surveys contributed to the curricular focus of each school on the campus.[19]
Cook County Board of Commissioners
In 2010, García ran for the Cook County Board of Commissioners, challenging 7th district member and HDO candidate Joseph Mario Moreno in the Democratic primary. García defeated him by 9,602 votes (54.74%) to 7,939 (45.26%).[20] In the general election, he faced Green Party nominee Paloma M. Andrade and defeated her by 24,612 votes (86.29%) to 3,912 (13.72%).[21] After the election, Toni Preckwinkle appointed García Floor Leader. García was re-elected unopposed to a second term on the Board of Commissioners in the 2014 elections.[22]
2015 Chicago mayoral election
García entered the mayoral race against incumbent mayor Rahm Emanuel after being recruited by Chicago Teachers Union President Karen Lewis, a leading progressive candidate who had fallen ill and was forced to call off her own campaign.[23] García won 34% of the vote in the February 24 primary, and Emanuel failed to win more than 50%, forcing a runoff election between the two on April 7.[24] The campaign received national attention and was considered by some a preview of the upcoming 2016 Democratic presidential primary. Senator Bernie Sanders endorsed García in what he called a "political revolution in Chicago."[25] Emanuel won the runoff election with 55% of the vote.[26] García opposes the Ashland Bus Rapid Transit plan,[27] the Belmont flyover,[28] and red light cameras.[29]
After the mayoral election
García endorsed Bernie Sanders for President of the United States in the 2016 election and the 2020 election.[30][31] In the 2016 general election, García was a presidential elector from Illinois, casting a vote for Democratic nominees Hillary Clinton and Tim Kaine in the electoral college.[32]
After incumbent and formal rival Rahm Emanuel announced that he would not seek a third term in 2019, many people speculated that a high-ranking Latino politician would enter the race. Gutiérrez and García were seen as potential candidates. After Gutiérrez declined to run, he expressed his intent to draft García into the race.[33][34] Sanders expressed his desire for García to "take a look for running for mayor."[35] García ultimately did not run.
In the runoff of the 2019 mayoral election, García endorsed Lori Lightfoot, which delivered a further blow to the already faltering campaign of Lightfoot's opponent, Toni Preckwinkle.[36] Preckwinkle, who had been García's ally on the Cook County Board of Commissioners, had declined to endorse him for mayor in 2015.[37] Lightfoot ultimately defeated Preckwinkle in a landslide.
U.S. House of Representatives
Elections
2018
On November 27, 2017, just six days before the final day to file petitions to run in the 2018 election, Congressman Luis Gutiérrez pulled his petition, effectively choosing to retire at the conclusion of his 13th term.[38] The next day García signaled his intention to run for the open seat. During Gutiérrez's press conference, he endorsed García as his successor.[39] The next day, U.S. Senator Bernie Sanders endorsed García.[30] Politico described Gutiérrez's sudden retirement as "totally abnormal" and his endorsement of García as a "coronation", as the district is so heavily Democratic that the primary is the real contest and the general election is effectively a formality.[40]
García won the Democratic nomination in March 2018 with 60% of the primary vote.[41] He defeated financial adviser Mark Wayne Lorch in the November 6 general election, receiving over 86% of the vote.[42]
2020
García was reelected in 2020, running unopposed in the primary, and winning the general election with 84.05% of the vote.
Tenure
Committee assignments
Caucus memberships
Electoral history
Illinois 1st State Senate District General Election, 1992[45]

Party
Candidate
Votes
%
Democratic
Jesús G. Garcia
21,314
81.74
Republican
Esequiel Zeke Iracheta
4,762
18.26
Total votes
26,076
100.0
Illinois 1st State Senate District General Election, 1996[46]

Party
Candidate
Votes
%
Democratic
Jesús G. Garcia (incumbent)
21,539
100.0
Total votes
21,539
100.0
Cook County Board 7th District Commissioner General Election, 2010[49]

Party
Candidate
Votes
%
Democratic
Jesús G. "Chuy" García
24,612
86.29
Green
Paloma M. Andrade
3,912
13.72
Total votes
28,524
100.0
Cook County Board 7th District Commissioner General Election, 2014[50]

Party
Candidate
Votes
%
Democratic
Jesús G. "Chuy" García (incumbent)
25,320
100.0
Total votes
25,320
100.0
Illinois 4th Congressional District Democratic Primary, 2018[53]

Party
Candidate
Votes
%
Democratic
Jesús "Chuy" García
49,631
66.22
Democratic
Sol A. Flores
16,398
21.88
Democratic
Richard Gonzalez
8,921
11.90
Total votes
74,950
100.0
Illinois 4th Congressional District General Election, 2018[54]

Party
Candidate
Votes
%
Democratic
Jesús "Chuy" García
143,895
86.59
Republican
Mark Wayne Lorch
22,294
13.41
Total votes
166,189
100.0
Political positions
Immigration
During a congressional hearing in July 2019, García asked former ICE Acting Director Thomas Homan about the Trump administration family separation policy "how [he] can possibly allow this to happen under [his] watch, [does he] not care? Is it because these children do not look like children that are around [him]?" Those comments were widely condemned by right-wing commentators; Homan called them "disgusting."[55]
On December 10, 2019, García introduced the New Way Forward Act, an immigration reform bill.[56][57]
Foreign policy
In July 2019, García voted against a House resolution condemning the Global Boycott, Divestment, and Sanctions Movement targeting Israel. The resolution passed 398-17.[58]
In 2021, Garcia was one of eight Democrats to vote against the funding of Israel's Iron Dome missile defense system.[59]
Personal life
García married Evelyn García in 1980.
See also
References
Further reading
External links
Issues
Committees
House Financial Services Committee
Subcommittees
National Security, International Development, and Monetary Policy
Oversight and Investigations
House Committee on Transportation and Infrastructure
Subcommittees
House Committee on Natural Resources
Subcommittees
Legislation
Issues