Summary
Current Position: US Representative of IL District 10 since 2017
Affiliation: Democrat
Former Position: Financial consultant from 1988 – 2017
Featured Quote:  
@AlinejadMasih is an Iranian immigrant, an American citizen and champion of human and civil rights. The Iranian regime fears her message. I was honored that she shared with me the stories of countless Iranians risking their lives for freedom. She speaks because they cannot.
Featured Video: 
Brad Schneider: 'Our Future'
Twitter
About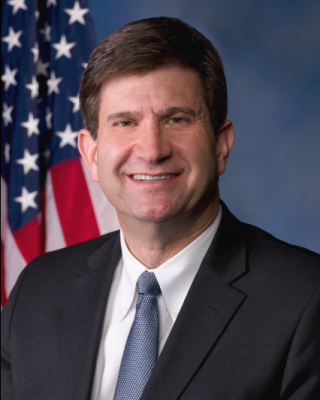 Source: Government page
Brad Schneider represents Illinois's 10th District in the United States House of Representatives, where he is serving his fourth term. He is a member of the House Committee on Ways and Means and House Committee on Foreign Affairs. He has previously served on the House Judiciary and Small Business committees.
As a member of Congress, Brad is focused on building a thriving economy that works for all Americans, and ensuring every family has affordable health care, quality education and a rising standard of living.  He knows that our communities are stronger when small businesses invest and grow, our environment is healthy, and people are working together for a better future.
Brad is committed to tackling the challenges we face as a nation, including protecting Medicare and Social Security for future generations, reforming our broken immigration system,  passing sensible gun safety legislation, and critically, urgently taking action to reduce the rate and address the impacts of global climate change.
He is also a staunch advocate for the rights of women, including ensuring equal pay for equal work and protecting every woman's right to make her own health care decisions about her body. Brad also favors extending federal civil rights protections to the LGBTQ community and was a strong supporter of marriage equality long before he held public office.
Brad remains an influential voice on foreign affairs in Congress and believes our nation and world benefit when the United States exercises leadership and engages with the international community. A longtime proponent of a strong U.S.-Israel relationship, Brad consistently leads on efforts in Congress to promote cooperation on security, counter Iran's nefarious influence, and condemn efforts to delegitimize the Jewish state.
Prior to being elected to Congress, Brad spent more than 20 years in business and management consulting, helping both large and family-owned businesses address the challenges of a changing economy and plan for the future.  His professional experience has allowed him to see first-hand the challenges small businesses face when trying to hire new workers and grow their company, as well as the effect thriving small businesses can have on a community's overall well-being.
At home, Brad has deep ties to the community, including service with organizations such as the Jewish United Fund, the Chicago Council on Global Affairs, Waukegan Public Library Foundation, B.E.S.T., the Coalition to Reduce Recidivism, and the Civic Leadership Foundation.
Brad earned a BS in industrial engineering and his MBA from Northwestern University.
Brad and his wife, Julie, have been residents of Deerfield for almost 30 years, where they created a home, built their careers, and, most importantly, raised two sons, Adam and Daniel.
One of Brad's favorite pastimes was coaching his sons' baseball and soccer teams for over 12 years. He now enjoys exploring the bike trails throughout the district.
Voting Record
Caucuses 
115th Class Caucus
Bipartisan Heroin Task Force
Bipartisan Working Group
Blue Dog Coalition
Congressional Animal Protection Caucus
Congressional Black Jewish Caucus
Congressional Bulgaria Caucus
Congressional Caucus on Armenian Issues
Congressional Caucus on Hellenic Issues
Congressional Caucus on Korea
Congressional Chemistry Caucus
Congressional Diabetes Caucus
Congressional Fire Services Caucus
Congressional Great Lakes Task Force
Congressional Hellenic Israel Alliance
Congressional Latino Jewish Caucus
Congressional Manufacturing Caucus
Congressional Reformers Caucus
Congressional Refugee Caucus
Congressional Pro-Choice Caucus
Congressional Serbia Caucus
Congressional Task Force on Alzheimer's Disease
Democratic Israel Working Group
Equality Caucus
Financial Security and Life Insurance Caucus
Friends of a Free, Stable, and Democratic Syria Caucus
National Service Caucus
New Democrat Coalition

New Democrat Coalition Task Force on National Security
New Democrat Coalition Climate Change Task Force

Primary Care Caucus
Problem Solvers Caucus
Rare Disease Legislative Caucus
Skin Cancer Caucus
Sustainable Energy and Environment Coalition
School Safety Caucus
Healthcare Innovation Caucus
Tech Accountability Caucus
Offices
Contact
Email:
Web
Government Page, Campaign Site, Twitter, YouTube, Facebook, Wikipedia
Politics
Source: none
Campaign Finance
Open Secrets – We Follow the Money
Voting Record
VoteSmart – Key Votes & Ratings
Search
Wikipedia Entry
Bradley Scott Schneider (born August 20, 1961) is an American businessman and politician who became the U.S. representative for Illinois's 10th congressional district in 2017, previously holding the position from 2013 to 2015. Before he was elected to Congress, Schneider worked as a management consultant and industrial engineer in Deerfield, Illinois. A member of the Democratic Party, Schneider was first elected in 2012, narrowly defeating Republican incumbent Bob Dold. In 2014, he lost his bid for reelection to Dold. He defeated Dold two years later in their third consecutive matchup.
Early life, education and career
Schneider was born on August 20, 1961,[1][2] in Denver, Colorado, where he graduated from Cherry Creek High School.[3] In 1983, after receiving a B.S. in industrial engineering from Northwestern University, Schneider worked on a kibbutz in Israel. He later returned to the Chicago area to receive an M.B.A. from Northwestern's Kellogg Graduate School of Management in 1988, and worked for the consulting firm PriceWaterhouseCoopers.[4][5]
Schneider worked as the managing principal of the life insurance firm Davis Dann Adler Schneider, LLC, from 1997 until 2003, when he became the director of the strategic services group at Blackman Kallick. In 2008, he started his own consulting company, Cadence Consulting Group.[6][7]
U.S House of Representatives
Elections
2012
Schneider defeated Ilya Sheyman, John Tree, and Vivek Bavda in the Democratic primary election on March 20, 2012, with 47% of the vote.[8] He faced incumbent Republican Robert Dold in the November 6 general election. The nonpartisan Rothenberg Political Report declared the 10th district election "Leans Democrat" while Roll Call categorized the race as a toss-up.[9][10] The Democratic Congressional Campaign Committee placed significant focus on the race as part of their Red to Blue Program.[11] Schneider defeated Dold by 3,326 votes, 51%-49%.[12][13]
2014
Schneider ran for reelection. Dold was again the Republican nominee. As of July 2014, Schneider's campaign had $1.9 million cash on hand and Dold's $1.65 million.[14] Schneider was a member of the Democratic Congressional Campaign Committee's Frontline program, a program designed to protect the most vulnerable Democratic incumbents.[15]
Schneider was endorsed by the League of Conservation Voters[16] and Planned Parenthood.[17]
Dold won the election.
2016
In March 2016, Schneider won the Democratic nomination for the 10th district seat, defeating Nancy Rotering, the mayor of Highland Park. Dold ran for reelection.[18] Schneider defeated Dold by 13,916 votes, 52%-48%.[19]
2018
Schneider ran for reelection. He was unopposed in the Democratic primary election. Dold did not run again; business consultant Douglas Bennett narrowly won the Republican nomination against doctor Sapan Shah and attorney Jeremy Wynes.[20] Parting ways with the district's reputation as a swing district, that year it was considered "Solid Democrat."[21] Schneider was reelected.
Tenure
Schneider campaigned as a moderate Democrat,[22][23][24][25] and often described himself as a progressive.[26][27][28] He has described himself as "pragmatic and a moderate."[7]
Abortion
Schneider has said he is "100 percent pro-choice", and has been endorsed by Planned Parenthood and NARAL Pro-Choice America. He co-sponsored a bill to reverse the impact of the Supreme Court's ruling in Burwell v. Hobby Lobby and require employers to offer "a full range" of contraceptive options.[29]
Environment
Schneider supports EPA carbon emission standards for power plants.[30] In his 2012 primary race, he supported emissions trading, incentives for businesses to develop alternative energy systems, and tax credits for individuals to implement sustainable and renewable energy improvements in their homes.[31]
Foreign policy
Schneider supports "broad and deep" sanctions on Iran and covert operations to dissuade Iran from its nuclear weapons program, as well as its sales to terrorist organizations.[32] He is a longtime member of AIPAC.[33][34]
Guns
In March 2021, Schneider and Representative Adriano Espaillat proposed legislation to close the ghost guns loophole in an effort to curb gun violence.[35]
Health care
Schneider supports the Patient Protection and Affordable Care Act signed into law by President Obama, and opposes repeal.[36] He voted for a bill to increase enrollment transparency.[37][38]
LGBT issues
Schneider supports same-sex marriage.[39]
Tax policy
Schneider told the Chicago Tribune that he favors a 3:1 ratio of spending cuts to tax increases in order to reduce the debt. He said he is open to cuts in discretionary, defense, and entitlement spending.[32] Schneider supported the repeal of the Bush tax cuts and "long-term, comprehensive tax reform" that includes higher taxes on high incomes.[40]
Privacy
Schneider voted against the Amash–Conyers Amendment, a bill "that would have stopped the surveillance programs of the NSA".[41]
Minimum wage
Schneider co-sponsored a bill that would raise the minimum wage to $10.10 an hour.[41]
Committee assignments
Caucus memberships
Electoral history
Illinois 10th Congressional District Democratic Primary, 2016[49]

Party
Candidate
Votes
%
Democratic
Brad Schneider
50,916
53.73
Democratic
Nancy Rotering
43,842
46.27
Total votes
94,758
100.0
Illinois 10th Congressional District General Election, 2016[50]

Party
Candidate
Votes
%
Democratic
Brad Schneider
150,435
52.60
Republican
Robert Dold (incumbent)
135,535
47.39
Write-in votes
Joseph William Kopsick
26
0.01
Total votes
285,996
100.0
Illinois 10th Congressional District General Election, 2018[51]

Party
Candidate
Votes
%
Democratic
Brad Schneider (incumbent)
156,540
65.59
Republican
Douglas R. Bennett
82,124
34.41
Total votes
238,664
100.0
Personal life
Schneider and his wife Julie live in Deerfield. They have two sons.[53]
In 2013, Roll Call reported that Schneider was the 35th-wealthiest member of Congress.[54] He ranked as the 34th-wealthiest member of Congress in 2014.[55] In 2012, the Chicago Tribune noted that Schneider billed himself as a small businessman, though "he has taken on few paying ventures in recent years".[56]
In 2013, Schneider led a JUF mission of 25 people to Israel.[57] He has also been involved with AIPAC and the Jewish Federation of Metropolitan Chicago.[5][33]
In 2014, Schneider changed his filing status in a manner to prevent having to disclose his wife's income.[58]
Schneider tested positive for COVID-19 on January 12, 2021, after sheltering in place during the U.S. Capitol attack.[59]
Schneider and his staffers were planning to march at an Independence Day parade in Highland Park when a mass shooting occurred there. All of them survived unharmed.[60]
See also
References
External links
Issues
Committees
House Committee on Ways and Means
Subcommittee on Health
Subcommittee on Oversight and Investigations
House Commitee on Foreign Affairs
Subcommittee on Europe, Energy, the Environment and Cyber
Subcommittee on the Middle East, North Africa and Global Counterterrorism
Legislation
Learn more about legislation sponsored and co-sponsored by Congressman Schneider.
Issues