Summary
Current Position: US Representative for IL District 11 since 2013
Affiliation: Democrat
Other Positions:
Chair, Committee on Financial Services, Task Force on Artificial Intelligence,
Chair, Committee on Science, Space, and Technology, Subcommittee on Investigations and Oversight
Featured Quote: 
Getting vaccinated is not a partisan act, it's a patriotic one. I'm proud to join @RepMMM
for a bipartisan call to all Americans: protect yourselves and your loved ones & get vaccinated.
Featured Video: 
Forum with Congressman/Physicist Bill Foster
News
In the wake of a new Texas law banning nearly all abortions in that state, Illinois Gov. J.B. Pritzker and members of Illinois' congressional delegation vowed to protect women's rights while calling for a federal reproductive health law.
"Nobody should be forced to cross state lines to see a doctor," Pritzker said Tuesday. "The latest extremist attacks on reproductive health prove we need a federal law to protect a woman's right to control their own health care."
In 2019, Pritzker signed the Reproductive Health Act into law. In addition to codifying the right to abortions and birth control in Illinois, the act takes references to abortions out of Illinois' criminal code and requires insurers to cover the procedure.
"We stand together again today because the dystopian reality we feared in 2019 is closer to reality today as radical Republican legislators across the country seek to functionally eradicate their constituents' autonomy with no intervention from the nation's highest court to be found," Pritzker said.
---
U.S. Rep. Bill Foster (IL-11th), who was an adolescent during the 1960s, said he knew women who had to fly across the country to access safe and legal abortion care. "This is reality, and we're returning to a barbaric time in our country's history," he said.
Today, Congressman Bill Foster (D-IL) issued the following statement on President Biden's announcement of vaccine requirements for federal workers, federal contractors, and businesses with more than 100 employees:
"A majority of Americans have been vaccinated and we are ready to put this pandemic behind us. However, we can only do that if the unvaccinated take responsibility and do the right thing to protect themselves, their families, and their communities. I fully support President Biden's decision to require vaccination for federal workers and federal contractors, as well as mandating businesses with more than 100 employees ensure their workforce is fully vaccinated or institute weekly testing requirements. Not only will this help protect vaccinated workers at the workplace, it will help reduce the spread of COVID in communities large and small.
"This is a critical moment in our battle against COVID, and thanks to the tireless work of scientists, we have the tools to win. The vaccines have proven to be safe and effective. They are free and easily accessible. They are our way out of this pandemic."
Twitter
About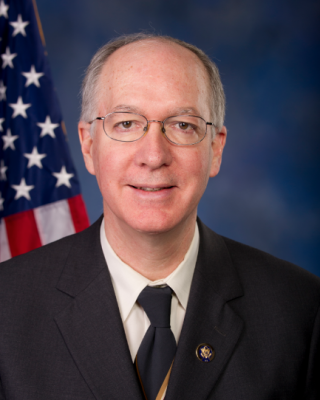 Source: Government page
Congressman Bill Foster is a scientist and businessman representing the 11th Congressional District of Illinois, a position he's held since 2013. He also represented the 14th Congressional District of Illinois from 2008 to 2011. He is the only PhD physicist in Congress.
Bill serves on the House Financial Services Committee where he advocates for consumer protections and an economy that works for everyone. In response to the Great Recession, he helped create several important reforms in the financial services and housing markets, including the Dodd-Frank Wall Street Reform and Consumer Protection Act. Bill serves as chairman of the Financial Services Committee's Task Force on Artificial Intelligence.
He also serves on the House Science, Space, and Technology Committee where he has fought for evidence-based policies and forward-thinking approaches to some of our country's most pressing issues, including climate change and energy innovation. He is a champion for sustained federal funding for scientific research.
Bill serves as the chairman of the Science Commitee's Investigations and Oversight Subcommittee, which is empowered to investigative and oversee federal scientific research.
In the wake of the devastating COVID-19 pandemic, Bill was named to the House Select Subcommittee on the Coronavirus. The Select Subcommittee is charged with examining the federal government's response to the COVID-19 crisis, including the use of taxpayer funds to mitigate the public health and economic consequences of the pandemic.
Bill's business career began at age 19 when he and his younger brother co-founded Electronic Theatre Controls, Inc., a company that now manufactures over half of the theater lighting equipment in the United States.
Before he became a Member of Congress, Bill worked as a high-energy physicist and particle accelerator designer at Fermi National Accelerator Laboratory (Fermilab). He was a member of the team that discovered the top quark, the heaviest known form of matter. He also led the teams that designed and built several scientific facilities and detectors still in use today, including the Antiproton Recycler Ring, the latest of Fermilab's giant particle accelerators.
Bill lives in Naperville with his wife Aesook, who is also a physicist. Bill has two grown children, Billy and Christine. Bill's father was a civil rights lawyer who wrote much of the enforcement language behind the Civil Rights Act of 1964.
Voting Record
Caucuses 
Inventions Caucus (Co-Chair)
Research and Design Caucus (Co-Chair)
Blockchain Caucus (Co-Chair)
Payer-State Caucus (Co-Chair)
Offices
2366 Rayburn House Office Building
Washington, DC 20515
Phone: 202-225-3515
2711 E New York Street
Suite 204
Aurora, IL 60502
Phone: 630-585-7672
815 N. Larkin Avenue
Suite 206
Joliet, IL 60435
Phone: 815-280-5876
Contact
Email:
Web
Government Page, Campaign Site, Twitter, YouTube, Facebook, Wikipedia
Politics
Source: none
Campaign Finance
Open Secrets – We Follow the Money
Voting Record
VoteSmart – Key Votes & Ratings
Search
Wikipedia Entry
George William Foster (born October 7, 1955) is an American businessman, physicist, and U.S. Representative for Illinois's 11th congressional district, winning the seat in 2012.[1] He was previously the U.S. Representative for Illinois's 14th congressional district from 2008 to 2011. He is a member of the Democratic Party.
Early life, education, and business career
Foster was born in 1955 in Madison, Wisconsin. As a teenager, he attended James Madison Memorial High School. He received his bachelor's degree in physics from the University of Wisconsin–Madison in 1976 and his Ph.D. in physics from Harvard University in 1983.[2] The title of his doctoral dissertation is "An experimental limit on proton decay: ."[3]
At age 19, Foster and his younger brother Fred started a business in their basement with $500 from their parents. The company, Electronic Theatre Controls (ETC), in 2008 had approximately 650 employees worldwide and manufactured over half of the theater lighting equipment in the United States. Installations include Broadway shows, Rolling Stones tours, opera houses, Super Bowl halftime shows, and at schools, churches, and community centers around the world.[4]
Physics career
After completing his Ph.D., Foster moved to the Fox Valley with his family to pursue a career in high-energy (particle) physics at Fermilab, a Department of Energy National Laboratory. During Foster's 22 years at Fermilab he participated in several projects, including the design of equipment and data analysis software for the CDF Detector, which were used in the discovery of the top quark, and the management of the design and construction of a 3 km Anti-Proton Recycler Ring for the Main Injector.[5][6]
He has been elected a fellow of the American Physical Society, was on the team receiving the 1989 Bruno Rossi Prize for cosmic ray physics for the discovery of the neutrino burst from the supernova SN 1987A, received the Particle Accelerator Technology Prize from the Institute of Electrical and Electronics Engineers, and was awarded an Energy Conservation award from the United States Department of Energy for his application of permanent magnets for Fermilab's accelerators.[7]
U.S. House of Representatives
Elections
2008 special
On November 26, 2007, former House Republican Speaker J. Dennis Hastert resigned as the Representative from Illinois' 14th congressional district. Foster announced his candidacy to fill the vacancy on May 30, 2007.[8]
In the March special election, Foster defeated Republican nominee and Hastert-endorsed candidate Jim Oberweis 53%–47%.[9][10]
2008 general
In November, Oberweis ran against Foster again in a rematch. Foster won re-election to a full term 58%–42%.[11]
2010
Foster was challenged by Republican nominee State Senator Randy Hultgren and Green Party nominee Daniel Kairis. Despite winning the endorsements from the Chicago Tribune,[12] the Chicago Sun-Times[13] and The Daily Herald,[14] Foster lost to Hultgren 51%–45%.[15][16]
2012
In May 2011, Foster sold his home in Geneva, moved to Naperville and announced plans to run for Congress in the 11th district, which encompasses Aurora, Joliet, Lisle in addition to Naperville. It also includes roughly a quarter of his old district.[17][18] The district had previously been the 13th, represented by seven-term Republican Judy Biggert. Although Biggert's home in Hinsdale had been shifted to the Chicago-based 5th district, Biggert opted to seek election in the 11th, which contained half of her old territory.[19]
On November 6, 2012, Foster won the election for the 11th district with 58% of the vote; Biggert conceded the race at 9:45pm.[20]
2014
Foster ran again and was unopposed in the Democratic primary in March 2014.[21] For the general election, he faced Republican nominee, State Representative Darlene Senger, and defeated her with 53.5% of the vote to her 46.5% of the vote.[22]
Tenure
Although it was initially thought that Foster would not be sworn in until April due to the need to count absentee ballots before the first election would be certified, he took the oath of office on March 11.[23]
Foster joined Vern Ehlers (R–MI) and Rush Holt Jr. (D–NJ) as the only research physicists ever to be elected to Congress.[24]
On his first day in office, he cast the deciding vote to keep from tabling an ethics bill that would create an independent outside panel to investigate ethics complaints against House members.[25][26]
Fundraising
According to the Center for Responsive Politics, Bill Foster received $637,050 from labor related political action committees during his runs for Congress. $180,000 of this money came from PACs linked to public sector unions. $110,000 of these donations came from PACs linked to industrial labor unions.
According to the Federal Election Commission, Nancy Pelosi gave $4,000 to Bill Foster's 2012 campaign committee. PACs under the control of Pelosi have donated $10,000 to his 2012 campaign.
Taxes
Foster supported allowing the Bush tax cuts to expire. During a debate with his opponent in the 2012 election Foster said, "The tax cuts were promised to generate job growth, but did not. If you follow the money, when you give a dollar to a very wealthy person, they won't typically put it back into the local economy." He said the tax benefits ended up in overseas accounts and spent on luxury purchases.[27]
Bill Foster has opposed efforts to repeal the estate tax. On 31 August 2005, U.S. Newswire reported that Foster said, "The proponents of estate tax repeal are fond of calling it the 'death tax'. It's not a death tax, it's a Rich Kids' tax." In 2009, just before the estate tax was scheduled for a one-year repeal, Foster voted to permanently extend the then current estate tax rate of 45%.
Card check
According to the official Thomas website, Bill Foster co-sponsored the Employee Free Choice Act of 2009, which would enable unionization of small businesses of less that 50 employees. On 25 February 2012, the Daily Herald reported, "Foster pointed to his support for the Employee Free Choice Act while serving at the congressman in the 14th District as proof of his union support."
Stimulus spending
Foster voted for the American Recovery and Reinvestment Act of 2009[28]
Health care reform
Foster voted for the Patient Protection and Affordable Care Act, commonly referred to as Obamacare.[29] On June 29, 2012, the Chicago Tribune reported that Foster said the following about his vote for Obamacare, "I'm proud of my vote, and I would be proud to do it again."
Dodd-Frank
He also voted for the Dodd-Frank Wall Street Reform and Consumer Protection Act, with all ten of the amendments he proposed being added to the final bill.[30]
Environment
He voted against the American Clean Energy and Security Act, which would create a Cap and trade system.[31]
Second Amendment
Asked if the Second Amendment should be up for reinterpretation, Foster said "It always has been up for reinterpretation. The technology changes, and the weapons thought to be too dangerous to be in private hands change. A civil war cannon is frankly much less dangerous than weapons we are allowed to carry on the streets in many of the states and cities in our country today. This is something where technology changes and public attitude changes and both are important in each of the generations."[32]
Committee assignments
Current
Past
Caucus memberships
Electoral history
Bill Foster's electoral history
Illinois 14th Congressional District Special Democratic Primary, 2008[37]

Party
Candidate
Votes
%
Democratic
Bill Foster
32,982
49.60
Democratic
John Laesch
28,433
42.76
Democratic
Jotham Stein
5,082
7.64
Total votes
66,497
100.0
Illinois 14th Congressional District Democratic Primary, 2008[38]

Party
Candidate
Votes
%
Democratic
Bill Foster
32,410
42.47
Democratic
John Laesch
32,012
41.94
Democratic
Joe Serra
6,033
7.90
Democratic
Jotham Stein
5,865
7.68
Total votes
76,320
100.0
Illinois 14th Congressional District Democratic Primary, 2010[41]

Party
Candidate
Votes
%
Democratic
Bill Foster (incumbent)
25,446
100.0
Democratic
Bobby G. Rose
1
0.00
Total votes
25,447
100.0
Illinois 11th Congressional District Democratic Primary, 2012[43]

Party
Candidate
Votes
%
Democratic
Bill Foster
12,126
58.48
Democratic
Juan Thomas
5,212
25.13
Democratic
Jim Hickey
3,399
16.39
Total votes
20,737
100.0
Illinois 11th Congressional District General Election, 2012[44]

Party
Candidate
Votes
%
Democratic
Bill Foster
148,928
58.57
Republican
Judy Biggert (incumbent)
105,348
41.43
Write-in votes
Chris Michel
19
0.01
Total votes
254,295
100.0
Illinois 11th Congressional District General Election, 2014[45]

Party
Candidate
Votes
%
Democratic
Bill Foster (incumbent)
93,436
53.46
Republican
Darlene Senger
81,335
46.54
Write-in votes
Constant "Connor" Vlakancic
1
0.00
Total votes
174,772
100.0
Illinois 11th Congressional District General Election, 2016[46]

Party
Candidate
Votes
%
Democratic
Bill Foster (incumbent)
166,578
60.45
Republican
Tonia Khouri
108,995
39.55
Total votes
275,573
100.0
Illinois 11th Congressional District General Election, 2018[47]

Party
Candidate
Votes
%
Democratic
Bill Foster (incumbent)
145,407
63.84
Republican
Nick Stella
82,358
36.16
Total votes
227,765
100.0
Personal life
Foster and his wife, Aesook Byon, live in Naperville, Illinois.[48][49] He has two adult children from his first marriage.[18]
References
Further reading
External links
Issues
Source: Government page
Caucuses
Inventions Caucus (Co-Chair)
Research and Design Caucus (Co-Chair)
Blockchain Caucus (Co-Chair)
Payer-State Caucus (Co-Chair)
Legislation
Learn more about legislation sponsored and co-sponsored by Congressman Foster.
Issues