News
i
Press Releases
In the News
Photo Gallery
Videos
eNewsletters
Social Media
Editorials/Op-eds
Speeches & Floor Statements
i
ORLAND PARK, IL – Today, U.S. Representative Marie Newman (D-IL-03) submitted a statement into the Congressional Record to honor the brave first responders of the Orland Fire Protection District (OFPD), which serves and protects the residents of Orland Park, Orland Hills, and unincorporated areas of Orland Township.
"Due to their excellence, Orland Fire Protection District is recognized as one of the best fire department organizations in Illinois and the country," Congresswoman Newman stated in the Congressional Record. "I honor their strong leadership, resourcefulness, and innovation in dealing with the effects of COVID-19 directly and swiftly. Their drive to share knowledge, equipment, and resources will cut inefficiencies and save even more lives. I thank the Orland Fire Protection District for their service, resiliency, and bravery."
Summary
Current Position: US Representative for IL 3rd District since 2021
Affiliation: Democrat
Former Position(s): Agency executive from 2005 – 2021
Featured Quote: 
The For the People Act expands voting rights for all Americans, but it would especially strengthen access to the ballot for veterans and people with disabilities. We need our senators to remove the filibuster. Let's get this passed.
Featured Video: 
Watch: Marie Newman shares why equality bill matters to her and her daughter
About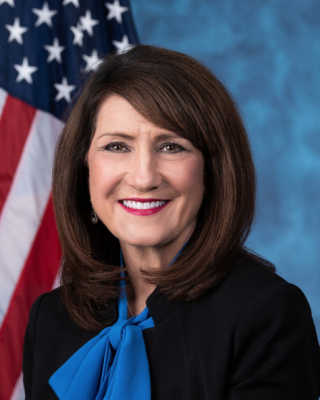 Source: Government page
A freshman member in the 117th Congress, Congresswoman Marie Newman represents Illinois' 3rd Congressional District, which covers the Southwest Side of Chicago as well as its surrounding suburbs. A lifelong advocate for growing small businesses, protecting health care rights, strengthening our infrastructure and building a greener economy, Congresswoman Newman is the first woman in history to represent Illinois' 3rd Congressional District in the United States House of Representatives. In Congress, she currently serves on the House Committee on Transportation & Infrastructure, House Committee on Small Business, Congressional Labor Caucus, House Democratic Manufacturing Working Group, Democratic Women's Caucus and as the Vice Chair of Communications for the Congressional Progressive Caucus (CPC).
Growing up on Chicago's Southwest Side and suburbs, Congresswoman Newman has been a lifelong resident of Illinois' 3rd Congressional District. With her dad and uncles all serving the country in the U.S. Army and Marines, she learned at an early age not only the critical importance of public service but also the immense value of lifting up your community and those around you. That's why when one of her children was severely bullied in school, Congresswoman Newman launched a nationally-recognized non-profit program called "Team Up To Stop Bullying" and worked with state and federal lawmakers to ensure anti-bullying policies became a reality. In addition to serving as a spokesperson for Moms Demand Action Illinois, Congresswoman Newman has used her strong background in advocacy and legislative advocacy over the past decade to grow a statewide coalition to fight for national issues such as health care rights, economic rights, LGBTQ+ rights and common-sense gun safety.
Prior to being elected, Congresswoman Newman worked as a marketing executive and partner at one of the nation's largest ad agencies before becoming a small business owner herself after launching a successful consulting company. She graduated from the University of Wisconsin thanks in part to her grandfather, a union carpenter, who built a double desk for his grandchildren to study on so they might be among the first in the family to go to college. A reminder of the strength and perseverance of union families and the dignity of hard work, Congresswoman Newman still uses that desk today.
Congresswoman Newman resides in La Grange, Illinois with her husband and two children.
Voting Record
Caucuses 
Congressional Progressive Caucus
Offices
Contact
Email:
Web
Government Page, Campaign Site, Twitter, LinkedIn, Facebook, Wikipedia
Twitter
Politics
Source: none
Campaign Finance
Open Secrets – We Follow the Money
Voting Record
VoteSmart – Key Votes & Ratings
Search
Wikipedia Entry
Marie Newman (born April 13, 1964) is an American politician and marketing consultant serving as the U.S. representative from Illinois's 3rd congressional district since 2021. The district encompasses parts of southwestern Chicago as well as many of its nearby suburbs such as Oak Lawn, Western Springs and Lockport. Newman won election in her district to the United States House of Representatives as the Democratic nominee, following her narrow victory against incumbent Dan Lipinski in the 2020 primary election. She had lost to Lipinski in the Democratic primary for the same seat in 2018.
Early life and career
Newman was born in Chicago, Illinois,[2][a] on April 13, 1964.[3] She attended Carl Sandburg High School in Orland Park, Illinois.[4] After attending Marquette University for a year and a half, she transferred to University of Wisconsin–Madison, where she graduated with a bachelor's degree.[5]
Newman worked for multiple firms as an agency executive. She began her own consulting firm in 2005.[6] She also established her own nonprofit to combat bullying after one of her children was bullied.[6] She was appointed to a regional anti-bullying task force by Governor Pat Quinn and was asked by Sears Holdings Corporation to establish a national anti-bullying coalition of 70 nonprofit organizations.
Newman has worked on several Democratic campaigns for public office. Between 2015 and 2017 she lobbied for gun control measures such as background checks.[7]
U.S. House of Representatives
Elections
2018
Newman supported Bernie Sanders in the 2016 Democratic presidential primary in Illinois and Hillary Clinton in the November general election. The day after Clinton lost, she applied to the Illinois Women's Institute for Leadership.[8] By January 1, 2017, Newman had closed her business to turn her attention to politics full-time.[8]
On April 10, 2017, Newman declared her candidacy for Illinois's 3rd congressional district,[9] challenging Democratic incumbent Dan Lipinski, a member of the Blue Dog Coalition,[10] who held the seat since 2005 following his father who held it for 22 years.[11][b] Newman ran well to Lipinski's left, and earned endorsements from the Human Rights Campaign, the Progressive Change Campaign Committee,[12] Planned Parenthood,[13] EMILY's List,[14] the SEIU state council,[15] National Nurses United, the Illinois Federation of Teachers,[16] the Feminist Majority Foundation,[4] NARAL Pro-Choice America, Democracy for America, MoveOn, and Our Revolution,[17] as well as several Democratic members of Congress, including Senator Kirsten Gillibrand of New York[18] and Representatives Luis Gutiérrez and Jan Schakowsky, both Illinois Democrats in the U.S. House of Representatives.[19] Lipinski defeated Newman with 51.2% of the vote to her 48.8%.[20][21]
2020
Newman ran against Lipinski again in the 2020 Democratic primary.[22] She received endorsements from Rep. Alexandria Ocasio-Cortez[23] and presidential candidates Senators Elizabeth Warren, Bernie Sanders,[24] Cory Booker, and Kirsten Gillibrand, as well as Chicago Mayor Lori Lightfoot.[25] The race took on special significance for progressive women's groups after other candidates they supported lost primary races earlier in March in Texas and the principal women candidates for the Democratic presidential nomination had ended their campaigns.[25] On March 17, 2020, Newman defeated Lipinski in the Democratic primary with 47.26% of the vote to his 44.72%.[26][27] Her primary victory ended a 38-year hold on the district by the Lipinski family. Bill Lipinski won the seat in 1983, when it was numbered as the 5th district (it has been the 3rd since 1993) and handed it to Dan in 2005.
On November 3, Newman won the general election, defeating Republican Will County Supervisor Mike Fricilone. With 88% of the vote counted, she led by about 30,000 votes, and had received about 55% of the vote.[28][29][30][31]
Committee assignments
Caucus memberships
Political positions
Newman represents what has long been the most conservative district of the eight that divide Chicago. Described as "ancestrally Democratic, culturally conservative, multiethnic and viscerally patriotic,"[34] the 3rd is the only Chicago-based district with a Cook Partisan Voting Index lower than D+15. However, she identifies as a progressive Democrat. She supports abortion rights, gun control, a $15 minimum wage,[6] and a Green New Deal.[35][36] Her campaigns were supported by Justice Democrats, an organization that funds progressive candidates, in both 2018[37] and 2020.[11] The Sunrise Movement supported her campaign in 2020.[38]
Newman also supports the Equality Act saying, "Without the Equality Act, this nation will never live up to its principles of freedom and equality." She claims that she entered politics to make the world a better place for her transgender daughter. After Republican freshman Marjorie Taylor Greene attacked the bill as "disgusting, immoral, and evil" on the House floor, Newman hung a Transgender Pride flag outside her Washington office, which is directly across from Greene's.[39]
Electoral history
2018
Illinois 3rd congressional district Democratic primary, 2018[40]

Party
Candidate
Votes
%
Democratic
Dan Lipinski (incumbent)
48,675
51.13
Democratic
Marie Newman
46,530
48.87
Total votes
95,205
100.0
2020
Illinois 3rd Congressional District Democratic primary, 2020[27]

Party
Candidate
Votes
%
Democratic
Marie Newman
52,384
47.26
Democratic
Dan Lipinski (incumbent)
49,568
44.72
Democratic
Rush Darwish
6,351
5.73
Democratic
Charles Hughes
2,549
2.30
Total votes
110,852
100.0
Illinois's 3rd congressional district, 2020[41]

Party
Candidate
Votes
%
Democratic
Marie Newman
172,997
56.4
Republican
Mike Fricilone
133,851
43.6
Total votes
306,848
100.0
Personal life
Newman lives in La Grange, west of Chicago,[26] with her husband, Jim. They married in 1996 and have two children.[42][39]
Newman's daughter is transgender, and Newman has spoken about how the lack of support for transgender people influenced her to run for office.[43]
Notes
See also
References
External links
Issues
Source: Government page
Committees
Congresswoman Newman currently serves on the House Committee on Transportation & Infrastructure, the House Committee on Small Business, and as the Vice Chair of Communications for the Congressional Progressive Caucus (CPC). She also serves on the following additional caucuses: Congressional Labor Caucus, House Democratic Manufacturing Working Group, Democratic Women's Caucus,  Congressional Postal Caucus, Sustainable Energy Environment Coalition, Bipartisan Disabilities Caucus, Pro-Choice Caucus, the College Affordability Caucus, and on the Equality Caucus as Vice Chair for the Transgender Equality Task Force.
Congresswoman Newman also serves on the following subcommittees:
House Committee on Transportation and Infrastructure
Subcommittee on Railroads, Pipelines, and Hazardous Materials
Subcommittee on Highways and Transit
House Committee on Small Business
Subcommittee on Economic Growth, Tax, and Access to Capital
Subcommittee on Innovation, Entrepreneurship, and Workforce Development
Subcommittee on Contracting and Infrastructure
Legislation
Learn more about legislation sponsored and co-sponsored by Representative Newman.
Issues