Summary
Current Position: US Representative of IL District 1 since 1993
Affiliation: Democrat
Other Positions:
Chair, Committee on Energy and Commerce Subcommittee on Energy
Featured Quote: 
Today would be a great day to pass the Emmett Till #AntilynchingAct and finally make lynching a federal hate crime in America.
Featured Video: 
Rep. Bobby Rush Thinks Police Departments Are Worse Now Than in His Black Panther Days
News
Today, U.S. Representative Bobby L. Rush (D-Ill.) introduced bipartisan legislation with Rep. John Katko (R-N.Y.) that would award a Congressional Gold Medal to honor the contributions of all of those whose efforts led to the successful development of the lifesaving COVID-19 vaccines.
"The COVID-19 pandemic has caused once-in-a-generation damage to communities across the country, including in the 1st District, where we mourn the loss of at least 1,530 individuals to this horrific disease," said Rush. "The development and widespread distribution of safe and effective COVID-19 vaccines has saved countless lives and allowed us to begin moving forward from this public health emergency, which has deeply affected all of us and disproportionately sickened Black and Brown Americans."
"To honor the incredible feat of medicine and science that the vaccines represent, and in recognition of the tireless efforts to deliver these vaccines to the public, I am proud to introduce legislation to dedicate a Congressional Gold Medal to those involved in the production and distribution of the COVID-19 vaccines. A Congressional Gold Medal is the highest civilian honor that Congress can bestow, and the massive effort across the government and private sector that brought us these lifesaving vaccines is certainly worthy of this distinction. I encourage every eligible person who has not yet gotten the vaccine to do so as soon as possible — for yourself, for your loved ones, and for your community. I thank my colleague Rep. Katko for his partnership in this effort."
Twitter
About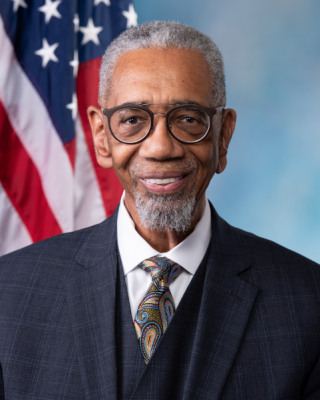 United States Representative Bobby L. Rush is a transcendent and influential American leader who keeps his legislative and policy interests focused on the needs of his constituents in the 1st Congressional District of Illinois, with an emphasis on the most vulnerable and the communities that feel left behind.  He believes deeply in the redemptive power of the human spirit and in human ingenuity and tenacity.  In office since 1993, Rush stands on the shoulders of a long line of patriots and public servants who have gone before him and who are ardent believers in our Constitution.  His life is an example of our nation's fundamental promise and his work reflects a deep determination to bend the arc of government resources and innovation towards the needs of every American — whether they live on our nation's main streets or its side streets.  Rush fights every day for his constituents; to improve their lives, grow the economy, bring jobs to the district, and build a stronger middle class.
Chicago and its surrounding communities are a snapshot of the diversity that is found across America.  While large parts of Rush's district include communities that house world-class health and educational institutions and a diverse array of businesses, there are others where youth unemployment and acts of violence are far too common.  Rush has focused on providing a public policy approach to creating jobs, tackling gun violence, and making communities safer.  Rush is an honorably discharged veteran of the United States Army and an ordained minister with a Master's Degree in Theology.  Rush has honorary doctorate degrees from the Virginia University of Lynchburg, Roosevelt University, and the Illinois Institute of Technology (IIT).  In addition to his Congressional responsibilities, Rush is the pastor of the Beloved Community Christian Church of God in Christ in Chicago.  Rush listens to his constituents with a pastor's ear and acts on their needs through hard work, empathy, and a commitment to public service. Rush was married to the late Carolyn Rush for 37 years and recently married Minister Evangelist Paulette Rush.
Legislative Highlights
From his very first year in office, Rush has focused on issues of importance to low- and middle-income families and communities.  In 1993, as a freshman in the 103rd Congress, Rush introduced bills on issues as diverse as Conflict Resolution and Mediation to Public Pensions and Community Development.
Rush's track record of leadership on energy issues and his support for small business while serving as an alderman in the Chicago City Council paved the way for him to gain a seat on the powerful House Energy and Commerce Committee in his second term.
Rush's attention to detail in crafting national legislation inspired his peers to elect him Chairman of the House Subcommittee on Commerce, Trade and Consumer Protection during the 111th Congress.  Under Rush's watch, important pieces of legislation became law including the Consumer Product Safety Improvement Act of 2008 (P.L. 110-314).  Signed into law by President George W. Bush, this statute is a landmark piece of legislation that provided an effective congressional response to an unprecedented wave of consumer product safety recalls in 2006 and 2007.
Key pieces of legislation that Rush crafted surrounding postpartum depression, women's health (Sec. 2951 and Sec. 2952 of Subtitle L), and prescription drug offsets (Sec. 7101 and Sec. 7102 of Subtitle B) were adopted in the landmark Patient Protection and Affordable Care Act (P.L. 111-148), signed into law by President Barack Obama.
Because of Rush's leadership over the years on a range of small business issues and community-based lending, Rush was chosen to serve as a conferee as part of the final, bipartisan deliberative process that led to the passage of the Dodd-Frank Wall Street Reform and Consumer Protection Act (P.L. 111-203).  Rush fought hard to help ensure that low- and middle-income consumers would never again fall prey to the ill-conceived, predatory financial practices that led to the near epic collapse of U. S. financial markets in 2008.
In 1996, Rush served as a conferee on the Telecommunications Act of 1996 (P.L. 104-104).  This law, the first major overhaul of U.S. telecommunications law in almost 62 years, marked the first time the internet was included in the broadcasting spectrum allotment and paved the way for the growth of cable and internet accessibility throughout the nation.
During his tenure, Rush has brought more than one billion dollars to the 1st Congressional District.  Through his determined advocacy, he has led efforts to fund major infrastructure projects in the district such as the reconstruction of the Dan Ryan Expressway, the Lovana S. 'Lou' Jones/Bronzeville Metra Station, the CREATE Englewood Flyover, the CTA Red Line Reconstruction, and the CTA Red Line 95th Street Station Renovation.  Over the years, he has obtained millions of dollars in grants for libraries, museums, municipalities, police departments, hospitals, schools, and programs that support the arts.
As Chairman of the House Energy & Commerce Committee's Energy Subcommittee, one of Rush's top priorities has been to increase opportunities for minorities within all sectors of the energy industry.  In order to do so, Rush has introduced the 21st Century Energy Workforce Development Jobs Initiative Act (H.R. 338).  This bipartisan bill establishes a comprehensive program to improve the education and training of workers for energy-related jobs, with an emphasis on increasing the number of skilled minorities and women trained to work in such jobs.
Today, Rush continues to carve an effective course of sound legislative leadership that protects consumers, supports our military personnel, creates jobs, expands businesses, and promotes America's national energy policy.  As Rush looks to the future, the needs and interests of the people he serves in the 1st Congressional District of Illinois remain front and center.
Voting Record
Caucuses 
5G Caucus
Congressional Army Caucus
Congressional Artificial Intelligence Caucus
Congressional Asthma and Allergy Caucus
Congressional Black Caucus
Congressional Cancer Survivors Caucus
Congressional Caucus for Competitiveness in Entertainment Technology (ETECH)
Congressional Caucus on India and Indian Americans
Congressional Caucus on Smart Cities
Congressional Caucus on the Deadliest Cancers
Congressional Diabetes Caucus
Congressional Direct Selling Caucus
Congressional Grid Innovation Caucus
Congressional Heart and Stroke Caucus
Congressional High-Speed & Intercity Passenger Rail Caucus
Congressional House Cancer Caucus
Congressional Labor and Working Families Caucus
Congressional Natural Gas Caucus
Congressional Out of Poverty Caucus
Congressional Peace Corps Caucus
Congressional Privacy Caucus
Congressional Soccer Caucus
Congressional Travel and Tourism Caucus
Congressional US–China Working Group
Congressional Ukrainian Caucus
Congressional Veterans Jobs Caucus
Congressional Wine Caucus
Congressional Youth Challenge Caucus
Creative Rights Caucus
Crime Prevention and Youth Development Caucus
Financial and Economic Literacy Caucus
House Community Health Center Caucus
House Great Lakes Task Force
House Renewable Energy and Energy Efficiency Caucus
National Labs Caucus
No War with Iran Caucus
Northeast-Midwest (NEMW) Congressional Coalition
Small Brewers Caucus
Offices
Washington
, 
DC
20515-1301
Phone:  (202) 225-4372
Fax:  (202) 226-0333
Hours: Monday – Friday
9 a.m. – 6 p.m., ET
11750 South Western Avenue
Phone: (773) 779-2400
Fax: (773) 779-2401
Hours: Monday – Friday
9 a.m. – 6 p.m., CT
Contact
Email:
Web
Government Page, Campaign Site, Twitter, YouTube, Facebook, Wikipedia
Politics
Source: none
Campaign Finance
Open Secrets – We Follow the Money
Voting Record
VoteSmart – Key Votes & Ratings
Search
Wikipedia Entry
Bobby Lee Rush (born November 23, 1946) is an American politician, activist and pastor who is the U.S. representative for Illinois's 1st congressional district, serving in Congress for almost three decades. A civil rights activist during the 1960s, Rush co-founded the Illinois chapter of the Black Panther Party.[1]
Rush was first elected to Congress in 1992. He has since won consecutive reelections. His district was originally principally on the South Side of Chicago, with a population from 2003 to early 2013 that was 65% African-American, a higher proportion than any other congressional district. In 2011 the Illinois General Assembly redistricted this area after the 2010 census. Although still minority-majority, since early 2013 it is 51.3% African American, 36.1% White, 9.8% Hispanic, and 2% Asian. A member of the Democratic Party, Rush is the only politician to have defeated Barack Obama in an election, which he did in the 2000 Democratic primary for Illinois's 1st congressional district. He is the dean of Illinois's congressional delegation.[2]
On January 3, 2022, Rush announced that he was retiring from Congress.[3]
Early life, education, and activism
Rush was born on November 23, 1946, in Albany, Georgia. After his parents separated when Rush was 7 years old, his mother took him and his siblings to Chicago, Illinois, joining the Great Migration of African Americans out of the South in the first part of the 20th century. In 1963, Rush dropped out of high school before graduating and joined the U.S. Army. While stationed in Chicago in 1966, he joined the Student Nonviolent Coordinating Committee, which had helped obtain national civil rights legislation passed in 1964 and 1965. In 1968, he went AWOL from the Army and co-founded the Illinois chapter of the Black Panthers. He later finished his Army service, receiving an honorable discharge.
Throughout the 1960s, Rush was involved in the civil rights movement and worked in civil disobedience campaigns in the southern United States. After co-founding the Illinois chapter of the Black Panther Party in 1968, he served as its defense minister.[4] After the Chicago Police Department and the State's Attorney Office assassinated Black Panther Fred Hampton in a police raid, Rush said, "We needed to arm ourselves", and called the police "pigs".[5] Earlier that year, Rush had discussed the philosophy of his membership in the Black Panthers, saying, "Black people have been on the defensive for all these years. The trend now is not to wait to be attacked. We advocate offensive violence against the power structure."[6] After Hampton's death, Rush became acting chairman of the Illinois Black Panther Party.[7] He worked on several nonviolent projects that built support for the Black Panthers in African-American communities, such as coordinating a medical clinic which offered sickle-cell anemia testing on an unprecedented scale.[8] Rush was imprisoned for six months in 1972 on a weapons charge after carrying a pistol into a police station. In 1974, he left the Black Panthers, who were already in decline. "We started glorifying thuggery and drugs", he told People. A deeply religious born-again Christian, Rush said, "I don't repudiate any of my involvement in the Panther party—it was part of my maturing."[9]
Formal education
Rush earned his Bachelor of General Studies with honors from Roosevelt University in 1973, and a Master's degree in political science from University of Illinois at Chicago in 1974. He completed a degree in theological studies at McCormick Theological Seminary in 1998.[10] On May 13, 2017, Rush received a Doctorate of Humanities, honoris causa, from the Illinois Institute of Technology (IIT) for his outstanding contributions to Chicago.
Politics
Chicago politics
In 1975, Rush ran for a seat on the Chicago City Council, the first of several black militants to seek political office, and lost to incumbent alderman William Barnett, receiving 23% of the vote to Barnett's 55% and Larry S. Bullock's 21%.[11] Rush's allies in the black-power movement abandoned the Democrats in the wake of the political turmoil that followed the sudden death in 1987 of Chicago's first black mayor, Harold Washington, and formed their own political party, naming it after Washington. Rush infuriated Harold Washington Party leaders by spurning their candidates for local offices and sometimes backing white Democrats instead. He worked with the Democrats and was rewarded with the deputy chairmanship of the state party.[12]
Congressional elections
After redistricting in 1992, Rush ran in Illinois's newly redrawn 1st congressional district, which included much of Chicago's South Side. The district had a high proportion of African-American residents; it has been represented by Black congressmen since 1929. Rush defeated incumbent U.S. Representative Charles Hayes and six other candidates in the Democratic primary election.[13] He won the general election with 83% of the vote.[14] (The 1st is so heavily Democratic that Rush had all but assured himself of a seat in Congress with his primary win.) The district has been in Democratic hands since 1935.
In the 2000 Democratic primary for the district, Rush was challenged by Illinois State Senator Barack Obama.[15] During the primary, Rush said, "Barack Obama went to Harvard and became an educated fool. Barack is a person who read about the civil rights protests and thinks he knows all about it."[16]
Rush claimed Obama was insufficiently rooted in Chicago's black neighborhoods to represent constituents' concerns.[17] Obama said Rush was a part of "a politics that is rooted in the past" and said he could build bridges with whites to get things done. But while Obama did well in his own Hyde Park base, he did not get enough support from the surrounding black neighborhoods.[18] Starting with 10% name recognition, Obama eventually gained 30% of the vote, losing by more than 2 to 1 despite winning among white voters. Rush won 61% of the vote,[19][20][21][22][23] and won the general election with 88% of the vote.[24]
Subsequent Chicago politics
In 1999, Rush ran for mayor of Chicago, but lost to incumbent Richard M. Daley, an ethnic Irish American whose father had long controlled the city as mayor.[25] He remained active in city and regional politics.
In 2013, Rush criticized U.S. Senator Mark Kirk's proposal that 18,000 members of the Chicago gang "Gangster Disciples" be arrested, calling Kirk's suggestion "headline grabbing" and an "upper-middle-class, elitist white boy solution to a problem he knows nothing about". A spokesman for Kirk said Kirk had dealt with the issues for decades.[26]
Also in 2013, Alex Clifford was forced to resign as CEO of Metra commuter rail agency, but soon after he left, a memo was released indirectly accusing Rush of using his political power to steer a $50,000 contract to a Washington-based business group.[27]
Endorsements
In the 2015 Chicago mayoral election, Rush endorsed Mayor Rahm Emanuel in Emanuel's runoff reelection campaign against Jesus "Chuy" Garcia.[28]
In the 2019 Chicago mayoral election, Rush endorsed Bill Daley in the first round[29] and Toni Preckwinkle in the runoff.[30]
Though a very close friend of former President Bill Clinton and his wife, Hillary Clinton, Rush announced early on in the 2008 Democratic primaries that he would support Obama.[31] After Obama won the presidency and vacated his Senate seat, Rush said that an African American should be appointed to the seat:[32] "With the resignation of President-elect Obama, we now have no African-Americans in the United States Senate, and we believe it will be a national disgrace to not have this seat filled by one of the many capable African-American Illinois politicians."[33] Rush said he did not support any particular person and was not interested in the seat.[32][33] On December 30, 2008, Governor Rod Blagojevich announced his appointment of Roland Burris, the former Attorney General of Illinois; Rush was present at the press conference and spoke in support of Burris.[34]
Rush endorsed Kamala Harris in the 2020 Democratic presidential primary. After she dropped out, he endorsed Michael Bloomberg and became his campaign's national co-chair.[35]
U.S. House of Representatives
Rush has been considered a loyal Democrat during his tenure; in the 110th Congress, he voted with his party 97.8% of the time.[36] Rush is a member of the Congressional Black Caucus[37] and the House Baltic Caucus.[38]
Issues
Fiscal
Rush initiated the Chicago Partnership for the Earned Income Tax Credit, an ongoing program designed to help low-income working Chicago residents receive the Earned Income Tax Credit, a federal income tax credit.[39]
Healthcare
Rush sponsored the Nursing Relief for Disadvantaged Areas Act passed in 1999. The law temporarily addressed the nursing shortage by providing non-immigrant visas for qualified foreign nurses in Chicago's Englewood neighborhood and was reauthorized in 2005.[40] Rush sponsored the Melanie Blocker-Stokes Postpartum Depression Research and Care Act, named for a Chicago native who jumped to her death from a 12th-story window due to postpartum depression. The bill would provide for research on postpartum depression and psychosis and services for people suffering from these disorders.[41] The Children's Health Act, passed in 2000, incorporated Rush's Urban Asthma Reduction Act of 1999, amending the Preventive Health and Health Services Block Grant program and including an integrated approach to asthma management.[42]
Energy
Rush was very outspoken against the GOP's No More Solyndras Bill, which would override a loan guarantee by the Energy Department to encourage research and development. The Energy Department provided a federal loan guarantee to the solar manufacturing company Solyndra to help with R&D.[43] He said the No More Solyndras Bill would be better named the No More Innovation Bill.[44]
Firearms
Rush introduced Blair Holt's Firearm Licensing and Record of Sale Act of 2009 on January 6, 2009. The bill would require all owners of handguns and semiautomatic firearms to register for a federal firearms license. All sales of the subject firearms would have to go through a licensed dealer. It would also make it illegal not to register as an owner of a firearm.[45][46]
Darfur genocide
On July 15, 2004, Rush became the second sitting member of Congress, after Charles Rangel and before Joe Hoeffel, to be arrested for trespassing while protesting the genocide in Darfur and other violations of human rights in Sudan in front of the Sudanese Embassy.[47][48]
Armed forces
On February 13, 2007, Rush opposed President George W. Bush's proposed 20,000-serviceman troop surge in Iraq. He said the troops' presence in Iraq was the greatest catalyst of violence there and advocated a political resolution of the situation. Rush said the troop surge would serve only to make the Iraqi situation more volatile.[49]
Trayvon Martin
On March 28, 2012, Rush addressed the House while wearing a hoodie in honor of Trayvon Martin, a teenager who was shot in Florida by a local resident. He spoke against racial profiling.[50] As the House forbids its members from wearing headgear as a breach of decorum, Rush was called out of order and escorted from the chamber.[51]
Lynching
Rush twice introduced the Emmett Till Antilynching Act (named for Chicago teenager Emmett Till) to make lynching a federal crime.[52][53] Federal anti-lynching legislation in Congress had been held up for about 100 years, but the Emmett Till Act finally became law in 2022.[54]
Committee assignments
In the 115th United States Congress (January 3, 2017, to January 3, 2019):
Caucus memberships
Missed votes
Rush's career average missed vote percentage is 15.7, much higher than the median missed vote percentage of 2.2 for members of the House.[56] In the first session of the 114th session of Congress (January to December 2015), Rush missed 15.6% of the votes and ranked 12th in missed votes.[57] He had the distinction of missing more votes than any other member of the House between 2007 and 2015: of 6,906 votes, Rush missed 1,549 (22.4%). Health issues for Rush and his wife were his main explanations for his high number of missed votes.[58][59]
Ethics concerns and conflicts of interest
The Office of Congressional Ethics referred a matter involving Rush to the House Ethics Committee in 2014.[60] The Office of Congressional Ethics report found he did not pay about $365,000 in rent for longtime use of an office to conduct politics.[61][62] Rush has paid family members for years in questionable practices. He had a family member who for years worked for his church but was paid by a campaign supporter and friend.[63] The Federal Election Commission questioned a Rush campaign-finance report that showed thousands of dollars spent on vague categories such as "campaign visibility" and "services rendered." His campaign paid his wife, Carolyn, $50,000 in 2015 for consulting, and his brother, Marlon Rush of Lansing, $13,000 in 2016 for two months' work as campaign manager, according to FEC reports.[64][65] Oxford Media Group Inc., an Oak Brook company owned by multimillionaire businessman Joseph Stroud, paid the Commonwealth Edison bill—which was well past due, totaling $17,900 for Rush's Beloved Community Christian Church in 2010. Rush had personally been named in a ComEd lawsuit over the church's previous unpaid bills. Stroud was trying to break into the wireless phone industry dominated by Verizon and AT&T, and Rush was pushing for federal tax incentives that would give one of Stroud's other companies a leg up as a minority-owned business. A nonprofit Rush started got $1 million from the charitable arm of what is now AT&T for what turned out to be a failed effort to create a "technology center" in Englewood. At the time, the telecom giant was seeking support for legislation in a House committee of which Rush was a key member.[66]
From 2001 to 2013, businesses counting on favorable actions by Rush in Congress donated roughly $1.7 million to his pet charities. Rush attracted more charitable corporate giving than any other Illinois congressman by a large margin, according to a Sunlight Foundation study of expenditures from 2009 to 2011. While it is impossible to assign cause and effect, at critical junctures Rush parted with fellow liberal Democrats in Congress to take pro-industry positions aligned with corporate benefactors SBC/AT&T, Comcast and ComEd.[67]
Electoral history
Illinois 1st Congressional District General Election, 1992[68]

Party
Candidate
Votes
%
Democratic
Bobby L. Rush
209,258
82.81
Republican
Jay Walker
43,453
17.19
Total votes
252,711
100.0
Illinois 1st Congressional District General Election, 1994[69]

Party
Candidate
Votes
%
Democratic
Bobby L. Rush (incumbent)
112,474
75.73
Republican
William J. Kelly
36,038
24.27
Total votes
148,512
100.0
Illinois 1st Congressional District General Election, 1996[70]

Party
Candidate
Votes
%
Democratic
Bobby L. Rush (incumbent)
174,005
85.67
Republican
Noel Naughton
25,659
12.63
Libertarian
Tim M. Griffin
3,449
1.70
Total votes
203,113
100.0
Illinois 1st Congressional District Democratic Primary, 1998[71]

Party
Candidate
Votes
%
Democratic
Bobby L. Rush (incumbent)
85,696
88.82
Democratic
Caleb A. Davis, Jr.
10,785
11.18
Total votes
96,481
100.0
Illinois 1st Congressional District General Election, 1998[72]

Party
Candidate
Votes
%
Democratic
Bobby L. Rush (incumbent)
151,890
87.11
Republican
Marlene White Ahimaz
18,429
10.57
Libertarian
Marjorie Kohls
4,046
2.32
Total votes
174,365
100.0
Illinois 1st Congressional District General Election, 2000[74]

Party
Candidate
Votes
%
Democratic
Bobby L. Rush (incumbent)
172,271
87.81
Republican
Raymond G. Wardingley
23,915
12.19
Total votes
196,186
100.0
Illinois 1st Congressional District General Election, 2002[75]

Party
Candidate
Votes
%
Democratic
Bobby L. Rush (incumbent)
149,068
81.17
Republican
Raymond G. Wardingley
29,776
16.21
Libertarian
Dorothy G. Tsatsos
4,812
2.62
Total votes
183,656
100.0
Illinois 1st Congressional District General Election, 2004[76]

Party
Candidate
Votes
%
Democratic
Bobby L. Rush (incumbent)
212,109
84.86
Republican
Raymond G. Wardingley
37,840
15.14
Total votes
249,949
100.0
Illinois 1st Congressional District Democratic Primary, 2006[77]

Party
Candidate
Votes
%
Democratic
Bobby L. Rush (incumbent)
81,593
81.58
Democratic
Phillip Jackson
18,427
18.42
Total votes
100,020
100.0
Illinois 1st Congressional District General Election, 2006[78]

Party
Candidate
Votes
%
Democratic
Bobby L. Rush (incumbent)
146,623
84.06
Republican
Jason E. Tabour
27,804
15.94
Total votes
174,427
100.0
Illinois 1st Congressional District Democratic Primary, 2008[79]

Party
Candidate
Votes
%
Democratic
Bobby L. Rush (incumbent)
134,343
87.45
Democratic
William Walls, III
19,272
12.55
Total votes
153,615
100.0
Illinois 1st Congressional District General Election, 2008[80]

Party
Candidate
Votes
%
Democratic
Bobby L. Rush (incumbent)
233,036
85.87
Republican
Antoine Members
38,361
14.13
Total votes
271,397
100.0
Illinois 1st Congressional District General Election, 2010[82]

Party
Candidate
Votes
%
Democratic
Bobby L. Rush (incumbent)
148,170
80.36
Republican
Raymond G. Wardingley
29,253
15.87
Green
Jeff Adams
6,963
3.78
Total votes
184,386
100.0
Illinois 1st Congressional District General Election, 2012[84]

Party
Candidate
Votes
%
Democratic
Bobby L. Rush (incumbent)
236,854
73.82
Republican
Donald E. Peloquin
83,989
26.18
Write-in votes
John Hawkins
1
0.00
Total votes
320,844
100.0
Illinois 1st Congressional District General Election, 2014[85]

Party
Candidate
Votes
%
Democratic
Bobby L. Rush (incumbent)
162,268
73.09
Republican
Jimmy Lee Tillman
59,749
26.91
Total votes
222,017
100.0
Illinois 1st Congressional District Democratic Primary, 2016[86]

Party
Candidate
Votes
%
Democratic
Bobby L. Rush (incumbent)
128,402
71.44
Democratic
Howard B. Brookins, Jr.
34,645
19.27
Democratic
O. Patrick Brutus
16,696
9.29
Total votes
179,743
100.0
Illinois 1st Congressional District General Election, 2016[87]

Party
Candidate
Votes
%
Democratic
Bobby L. Rush (incumbent)
234,037
74.09
Republican
August (O'Neill) Deuser
81,817
25.90
Write-in votes
Tabitha Carson
8
0.00
Total votes
315,862
100.0
Illinois 1st Congressional District General Election, 2018[88]

Party
Candidate
Votes
%
Democratic
Bobby L. Rush (incumbent)
189,560
73.51
Republican
Jimmy Lee Tillman, II
50,960
19.76
Independent
Thomas Rudbeck
17,365
6.73
Total votes
257,885
100.0
Illinois 1st Congressional District General Election, 2020[89][90]

Party
Candidate
Votes
%
Democratic
Bobby L. Rush (incumbent)
239,943
73.08
Republican
Philanise White
85,027
25.01
Total votes
325,123
100.0
Beloved Community Christian Church
Rush is pastor of the Beloved Community Christian Church in Chicago's Englewood neighborhood. Leaders of other Englewood nonprofit organizations complained that the church's programs—a community development corporation Rebirth of Englewood, a public health center, and a group serving teens convicted of crimes—received inordinate government aid and weighed heavily on their own efforts for renewal.[91]
Unpaid taxes and wage garnishment
In 2013, Rush and his wife, the Beloved Community Christian Church of which Rush is pastor, and another nonprofit organization operating out of the church had tax delinquencies totaling $195,000, and the pattern of tax delinquency was a decade old. Unpaid taxes included property taxes, income taxes, and employee withholding taxes.[92] New City Bank sued Rush and his wife for $500,000, claiming they failed to pay their property taxes in 2009.[93][94] In 1994, Rush owed the IRS $55,000 in federal income taxes, according to Cook County records.[95]
Since 2018, 15% of Rush's congressional salary has been garnished to repay more than $1 million he owes on a delinquent loan for the now-closed church he founded in Chicago. Cook County Circuit Judge Alexander White ordered Rush to repay the $550,000 loan that New City Bank granted him and seven other co-signers in 2005. With the money, Rush bought the former Our Redeemer Lutheran Church in Englewood and restyled it as the Beloved Community Church of God in Christ.[96]
Personal life
Rush has been married three times.[97][98] His first marriage, when he was 19, was to Sandra Milan. They had two children together[97] and divorced in 1973.[97] He was married to community organizer, precinct captain, and political strategist Carolyn Thomas from 1980 or 1981 until her death from congestive heart failure on March 13, 2017.[99][100] Their blended family had seven surviving children at the time of her death.[100] On June 30, 2018, Rush married minister and author Paulette Holloway.[98]
Rush's son Huey Rich was murdered on the South Side of Chicago at age 29, in October 1999.[101][102][103] He was named after Black Panther co-founder Huey P. Newton. Rich's mother was Saundra Rich, whom Rush never married.[102] On October 18, 1999, Rich was approached outside his apartment building by Leo Foster and Darcell Prince, who falsely claimed to be police officers.[104] They wore bulletproof vests, and carried walkie-talkies, guns, and badges, but Rich didn't believe them and ran.[102][104] Foster and Prince chased and shot Rich, then stole several hundred dollars and keys from his pockets.[104] He died in the hospital four days later from extensive blood loss.[105] Foster told police that he and Prince were coming to collect $110,000 worth of cocaine that Rich had been paid to procure but hadn't delivered.[101][104] Rich's friends didn't believe Foster's story, with some suggesting it may have been a case of mistaken identity.[101] Rush said Rich "was involved in positive—as far as I know—endeavors", adding "as parents, we don't always know".[101] Foster was sentenced to 60 years in prison for the murder and Prince to 50 years.[106] The murder prompted Rush to prioritize efforts to reduce gun violence.[102]
In 2008, Rush had a rare type of malignant tumor removed from his salivary gland.[107] He is a member of Iota Phi Theta fraternity.[108] According to a DNA analysis conducted under the auspices of the TV program Know Your Heritage, he is descended mainly from the Ashanti people of Ghana.[109] Rush attributed his election to Congress to Tony Robbins.[97] His heroes include Abraham Lincoln, Kit Carson, and Huey P. Newton.[97]
In 2018, Rush's son Flynn Rush unsuccessfully ran for a seat in the Illinois House of Representatives, losing in the Democratic primary to Curtis Tarver.[110][111]
See also
References
External links
Issues
Committees
Committees and Caucuses
Congressman Rush is proud to be part of the following committees and caucuses:
Committees
Congressman Rush currently serves on the Committee on Energy and Commerce where he serves on the:
To see Congressman Rush and the Democratic Committee members' priorities click here.
Congressman Rush also currently serves on the House Agriculture Committee, where he serves on the:
To see Congressman Rush and the Democratic Committee members' priorities click here.
Legislation
Issues